Pretty much everyone in the United States is eligible to win Wednesday's record $1.4 billion Powerball jackpot—except for a not-so-fortunate group of 2.2 million people.
The list of people eligible to win the Powerball even includes Americans abroad, who can buy tickets online, and non-U.S. citizens in the states with dreams of striking it rich. Tourists visiting the U.S. can buy a Powerball ticket and claim the prize. Just about any adult who can get themselves online or to an authorized retailer is eligible.
But for one big group — the estimated 2.2 million adults behind bars in the U.S. — winning the Powerball isn't really an option.
Most states strictly forbid people in prison from gambling, including participating in state-approved lottery contests. Others just make it impossible by not permitting internet access or prohibiting lottery tickets from being mailed.
Theoretically, an adult in prison could phone a friend and ask them to both front the money for the ticket and accept the winnings on their behalf. But that's also illegal in states with laws that prohibit people in prison from gambling.
G/O Media may get a commission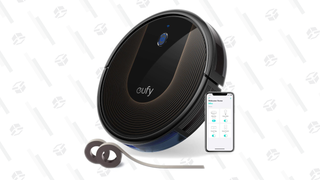 48% Off
Eufy BoostIQ RoboVac
There is one extraordinary story of a U.K. man who happened to buy a winning lottery ticket while serving time for attempted rape. In 2004 Iorworth Hoare was on a permitted weekend outing when he won the winning ticket for a £7 million ($10 million USD) jackpot. Hoare, who had previous convictions for rape, two other attempted rapes, and three indecent assaults, now lives in a castle and is known for his art collection. One victim who heard about his record lottery win sued Hoare and settled for an undisclosed sum of money.
But in the U.S., it might be the state suing the lottery winner. Experts say in the off chance a current or former prisoner in the U.S. manages to win the Powerball, the state could take a chunk of it away.
As counties and states struggle to pay for their prisons, they have started charging fees for everything from bookings to room and board. More than half the nation's state prisons have instituted "pay-to-stay" fees, charging inmates for their own incarceration.
An estimated 10 million people owe more than $50 billion in debt resulting from their involvement in the criminal justice system, according to a study published by the The Brennan Center for Justice at New York University's School of Law.
Criminal justice advocates say the debt can increase recidivism and that prisoners who have already served their time should not be doubly punished with added fees.
If a former prisoner wins the jackpot, chances are the state or a victim could come after them.
In December 2014 Timothy Poole of Mount Dora, Florida, a registered sex offender, won nearly $3 million on a scratch-off lottery ticket. Two unidentified brothers who say they were sexually assaulted by Poole asked the state court to temporarily freeze his earnings ahead of their trial, but a judge denied their request.
After the judge's ruling Florida State Senator Darren Soto (D-Orlando) said he would introduce legislation that would allow judges to freeze assets of convicted sex offenders who win the lottery.
Another registered sex offender in Florida was the sole winner of the state's $14 million lottery drawing in 2007. The Florida Lottery commision did not respond to request asking if the state has considered banning certain groups from being eligible to win the lottery.