Yesterday, Amazon announced that it is searching for a new city to build a second, massive, $5 billion headquarters. Exciting? No. Disgusting. This is what the extortion of public resources looks like.
The point I want to make here is not original or revolutionary or even deeply insightful. It is obvious. But it is very easy for it to get lost in the hype of this ENORMOUS MULTIBILLION-DOLLAR HEADQUARTERS SEARCH WITH 50,000 JOBS!!! REVITALIZE YOUR FAILING CITY! JOIN THE MODERN AGE! GET YOUR COW TOWN A PIECE OF THE AMAZON ACTION! ACT NOW AND WIN THE AMAZON SWEEPSTAKES OR GET LEFT BEHIND LIKE THE DYING POSTINDUSTRIAL WASTELAND THAT YOU REALLY ARE!
Amazon is one of America's largest and most succesful corporations. It is worth nearly $500 billion. Its stock is booming. Its CEO is one of the world's richest men. It has the wherewithal, in other words, to do whatever it wants. If Amazon wanted to purchase five square blocks of midtown Manhattan tomorrow and build skyscrapers on it, it could, just by writing a check. More to the point, if Amazon wanted to help revitalize an American city by investing $5 billion in it to build a new headquarters there, bringing 50,000 new jobs to town, it could. Just by writing a check.
Instead, Amazon is holding a multinational audition, asking for cities to submit proposals to win the exciting opportunity to host tens of thousands of tech nerds. Amazon wants to know that cities have an educated work force and good transportation networks, sure, but they don't need the cities themselves to tell them that. What they are asking cities to submit are economic incentives. They are asking for tax breaks. They are in essence conducting a giant beauty pageant in which desperate municipal governments attempt to offer them the most lucrative possible package of public resources. This is not unlike a rich man standing up in the midst of a crowd of beggars and yelling, "Who will massage my feet for the lowest price?"
Not to speak too technically, but: this is bad. This is a method that completely forsakes all of the benefits of public cooperation and planning in favor of chaos and desperation. This is crabs in a pot. These corporate attempts to play state and local governments against one another at taxpayer expense should be made illegal. Instead, they are treated as fun competitions to be "won," exhibitions of civic pride. They're not. They are exhibitions of the grotesque power imbalance between private and public capital in America. Elected officials routinely brag over winning these degrading competitions for corporate locations without ever admitting the enormous public costs. Whichever city "wins" Amazon's headquarters will do so by ceding to the enormously powerful company money that should, by normal laws, be going into the public till, to build schools and roads and pay firefighters and do things that support everyone. Instead that money will support Amazon and its shareholders. This is not a desirable system. A desirable system would be to outlaw these types of tax incentives, which would result in companies... still locating in cities and states, but without robbing the public in order to do so. A desirable system would be one in which governments could insist that companies offer incentives to the public in order to be accommodated—incentives like, for example, promising not to impede their workers' right to form unions, or to impose soul-crushing and inhuman working conditions on the fine citizens of said municipality who will make up their work force.
G/O Media may get a commission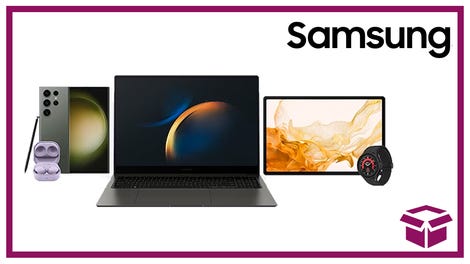 24 hour deals
Discover Samsung - Daily Deal
So when you see your civic leaders lining up to grovel at Amazon's feet and offer countless millions in incentives to host their headquarters, keep in mind what is actually happening here. An extremely wealthy and powerful private corporation is extorting money from the public by dividing and conquering. This has been a successful strategy for many tyrants over the years. But we don't need to act like they're doing any of us a favor.