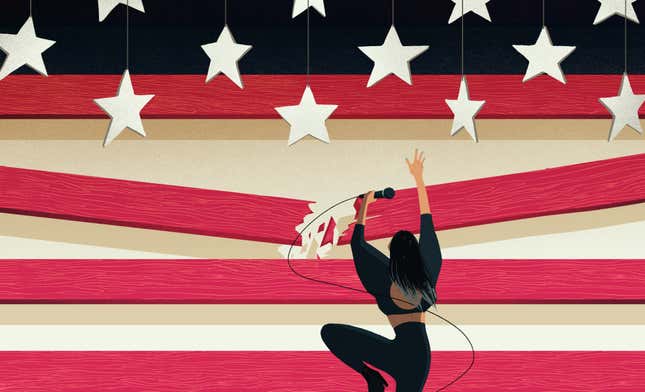 2017 was a breakthrough year for Asian music—or, more specifically, for one kind of Asian music: K-pop.

After years that saw the genre on the fringes of American culture, K-pop boy band BTS took the U.S. by storm. The group broke sales records for K-pop; beat the likes of Justin Bieber and Selena Gomez to become the first Asian music act to win a Billboard Award; performed (in Korean) before a horde of screaming fans at the American Music Awards; and even went on Ellen.
BTS is a groundbreaking act, and its rise signaled that Asian pop stars can make it in America. Yet, as exciting as that is, it also prompted a more troubling question: If BTS can succeed in the U.S., why have actual Americans of Asian descent been virtually shut out from the top echelons of the music industry?
The absence of visible Asian Americans in music points to pretty clear racism, obviously. But it also points to the broader issue of what, exactly, it means to be Asian American. That's a complicated conversation, especially since America has a fairly narrow idea of what a person of Asian descent looks like and, well, does.
"The idea of Asian America is super complex and it's very complex when it comes to music," Richie Menchavez, a member of Transparent Agency, which represents acts like Far East Movement and Dumbfoundead, told me. Menchavez is also the founder of Traktivist, a site that tracks music by Asian American artists.
"Asian Americans have been making music for as long as our history," Menchavez said. This is true. In recent decades, bands like The Smashing Pumpkins, No Doubt, Linkin Park, and the Pixies, among others, had Asian American members. Producers like CHOPS (who has worked with artists like O.D.B., Kanye West, and Nicki Minaj) and Illmind (who has worked with Khalid, Future, Drake, and others) have created loads of hip-hop and pop tracks. Steve Aoki is one of the most well known electronic artists today. But despite the immense work of these artist, front-facing representation for Asian Americans in mainstream music is almost completely absent.
To be fair, one of the most popular pop icons today, with seven Billboard No. 1s and 10 Grammys under his belt, is Asian American. But most people don't see Bruno Mars, whose mother is Filipina and whose father is Puerto Rican and Jewish, as Asian. Part of this is embedded in an ongoing discussion of how Filipinos and people of other Southeast Asian descent fit into the Asian identity, as well as how multiracial people self-identify. (Mars has spoken about embracing both his Filipino and Puerto Rican heritages, as well as navigating the music industry as a mixed-race person.)

But it also has to do with the fact that Mars doesn't "look" like what America considers Asian—namely, East Asian. Other mixed-race Asian Americans have similarly evaded being categorized as Asian. While artists like Tyga, Hailee Steinfeld, Nicole Scherzinger, and Anderson .Paak have Asian heritage, they aren't typically considered Asian American artists. This is at least in part because they present as white, black (part of a long, recognized history of mixed-race blackness in America), or "ethnically ambiguous." They don't necessarily wear their Asian identity the way that those who "look" Asian inherently do.
Even if you count Mars, the lack of Asians at the top of American music is still stunning. He is one of just a handful of artists of Asian descent to reach No. 1 on Billboard's Hot 100 chart.
There's Japanese singer Kyu Sakamoto, who reached No. 1 in 1963 with "Ue o Muite Arukō," known as "Sukiyaki" in English-speaking countries. In 1978, Yvonne Elliman, a mixed-race singer whose mother was of Japanese descent, hit No. 1 with the disco hit "If I Can't Have You." And Far East Movement topped the charts in 2010 with "Like a G6." Add Mars, and that's about it.
Far East Movement hit No. 1 just weeks after Mars got there with "Just the Way You Are," meaning that, for a brief period at the end of 2010, Asian American artists were dominating the charts. But since then, Mars has been the only Asian American artist to reach the top.
As those dismal numbers show, success for Asian American artists in music has come in waves. In the '90s, acts like Jocelyn Enriquez, boy band Kai, and pioneering hip-hop group the Mountain Brothers became the first Asian American music acts to sign with major labels. But after a surge of radio play—Enriquez's highest charting hit "Do You Miss Me" peaked at #49 in 1996—the momentum subsided. "You see that and you see that dip away," Menchavez said. "And then you see the rise of YouTube and that dipped away. Now there's Soundcloud, and now you have Asian Americans that are very exposed in the electronic scene, the production scene. You see this pattern of up and down."

Today, success for Asian Americans seems to be on the upswing in the electronic scene. Artists like TOKiMONSTA, Far East Movement, Joji, Jai Wolf, Yaeji, and others have been able to amass followings perhaps in part due to the way the electronic community functions.
"Perhaps my experience would be different had I [risen to fame quickly in the mainstream and was under immediate scrutiny," Jennifer Lee, aka TOKiMONSTA, told me over e-mail. "However, the left-field electronic scene in LA is a wide spectrum—there are a variety of ethnicities, genders, personalities, etc."

But while these underground artists have been chipping away at success, the hyper-capitalist appeal of K-pop has been permeating mainstream pop. And while it's giving America a glimpse at what immensely popular stars of Asian descent could look like, it isn't contributing to Asian American success. In fact, in some ways it's inadvertently undermining it. As K-pop becomes more successful in the U.S., there is a chance that it will define what "Asian music" sounds like in America, which will only box Asian Americans in even more.
"I'm all about [K-pop], but I can't help but to feel a little bit of like, damn. If it's foreign it seems to get more accepted than artists over here who are American," David Lee, a rapper from Queens, New York, who performs under the name Rekstizzy, told me.

So what's going on? Why have Asian Americans found it so difficult to gain a foothold?
Part of it could be that American culture still regards Asian Americans as foreign, or at least far more Asian than they are American. Thanks to an array of anti-Asian immigration laws throughout the 19th and 20th centuries, and innumerable unflattering media portrayals, Asians have been combatting the label of foreignness in America for generations. There's even a name for it, "perpetual foreigner syndrome," which recently resurfaced in the last few weeks, when New York Times opinion editor and writer Bari Weiss falsely implied that U.S. figure skater Mirai Nigasu was an immigrant and was promptly educated about this history.

"Even within our community there's a sense that we've kind of accepted seeing ourselves as foreign," Menchavez said. "If you keep pushing the foreignness, then for us as Asian Americans, if we don't speak that language, if we don't carry that foreign appeal, will they even give us a shot at the table? Will they even listen to the demo?"
The irony is that K-pop is just as foreign to many Asian Americans as it is to the rest of America.
"I have had the opportunity to meet many K-pop artists and members of some of the large groups," Jennifer Lee wrote. "I'm glad to see their success grow in the U.S. market, especially since U.S. acts have always maintained popularity overseas. The only issue is the general public using these artists as their main point of reference for all Asian people. I do not culturally relate to a K-pop artist and the phenomenon is as exotic to me as it is to my Caucasian friends."
Asian Americans also remain trapped in the model minority myth that casts all people of Asian descent as fanatically devoted to work, education, family, and financial success. Not only is that an inaccurate assessment that falsely homogenizes vastly different Asian cultures, but it's most often used to undermine other communities of color in the U.S. Crucially, it leaves no room for any conception of Asians as part of mainstream culture, leaving them woefully underrepresented across media, whether in music, television, movies, or theater.
For many Asian American artists struggling to find success and acceptance in the American music scene, a common suggestion is to go overseas to Asia and try to make it in an industry where their Asian heritage is not a problem. "You go out to come in," Menchavez explained.

There are a number of successful Asian pop stars who are actually American, such as f(x)'s Amber Liu, Jessica Jung and Tiffany Hwang from Girls Generation, Aron Kwak from NU'EST, Eric Nam, and others. In an interview with BuzzFeed, Far East Movement's Kevin Nishimura advised Asian artists to try and tap into international markets, saying, "Go out in Asia. You are welcomed there. Get that following, and bring those global numbers back here."
Perhaps the gold standard of an American artist finding success in Asia is Jay Park. Park, an accomplished breakdancer born and raised in Seattle, went overseas to South Korea in 2005 to pursue singing, dancing, and rapping. He found fame as the leader of the boy band 2PM, went solo, became an actor, went multi-platinum, and started his own hip-hop label, AOMG. Last year, he became the first Asian American artist to be signed to Roc Nation, Jay-Z's label—and all it took was leaving the country he's from, putting in 12 years of work, and becoming Usher-level famous overseas. And even then, he still might not make it in America.
As sound career advice as it may be for Asian American artists to find success overseas first, it's also deeply depressing and indicative of the struggle for Asian Americans to carve out a space for themselves in a media landscape with a legacy of anti-Asian racism.
And for women in music like Jennifer Lee, there's the added layer of racialized sexism. "There is this servile archetype of the 'Asian woman,' as being docile, demure, etc.," she said, pointing out that she never uses her face in her album artwork to avoid being tokenized.
Honing in on a distinct Asian American voice is further complicated by, well, the lack of a distinct Asian American voice. (One example of this: You can choose between artists of 22 different Asian ethnicities to follow on Traktivist.) At the surface level, "Asian" is most commonly associated with those of East Asian descent, which leaves those of Southeast Asian and South Asian descent—also impacted by the same model minority myth in different ways—hanging in Asian limbo.
Still, there is some hope. "I think audiences and artists in America are more open to the fact that Asians could be these artists and that's definitely different from even five years ago," David Lee told me.

Jennifer Lee is also optimistic. "I feel like I exist in a very special bubble in the music industry," she said. "I am the token minority in an industry becoming aware of its own prejudice and scrutiny. The pages are turning and more women of color are making strong moves as executives, as A&Rs, as distributors."
But what's not to say that this era of Asian American creativity and ingenuity in music is not just another wave that will ebb at any second? What will it take to ensure that any success will be sustained?
One approach that has been working is collaborating with and getting support from other non-Asian artists. 88Rising is a multimedia company that represents acts like Rich Brian (formerly Rich Chigga) from Indonesia, Japanese-Australian producer Joji, and Keith Ape, a South Korean rapper. 88Rising's artists have collaborated with a number of mainstream American rap acts like A$AP Ferg, Migos' Offset, 21 Savage, and others. Just last week, Japanese hip-hop collective PKCZ® dropped a single featuring Snoop Dogg (who has appeared on South Korean rap competition show Show Me the Money), the ultimate rap endorsement. It seems to have worked for non-American Asians, so there's a good chance it could work for Asian Americans, although some are worried about relying on cosigns.
"It kind of sucks that we need that validation, but that's the world we live in," Lee said. "And if you're going to be like, 'I don't need that shit,' then more power to you."
Another crucial aspect for Asian American success is getting community support from other Asian Americans. "The numbers show, it's not like the Asian American community doesn't have any buying power," Menchavez said. (As of 2015, Asian Americans had an estimated purchasing power of $825 billion, a figure that is expected to reach $1.1 trillion by 2020.) Part of that support is financial backing from labels and companies. Part of it is institutional information and mentorship.
And underlying all this is the constant struggle for authenticity as Asian American artists in a culture and industry that has a very specific idea of what Asian Americans are.
"If we're not who we are, if we're not unique, if we're not ourselves, and we can't talk about what we want to talk about and sing and produce and incorporate the sounds we want to incorporate, then we're not being the fullest artist we can be," Menchavez said.