About 1 in 7 Americans between the ages of 16 and 24 are not in school and don't have a job, according to a study by the research group Measure of America. That's about 5.5 million young people at a disadvantage for getting hired into the workforce.
It's not easy applying and interviewing for jobs at any age, but as a young person with limited work experience, job hunting can easily feel like a dead end.
The 100,000 Opportunities Initiative, an employer-led coalition, is committed to hiring 100,000 "opportunity youth" by 2018. The Initiative partners with community-based organizations and local government services to connect with these youth through job fairs. Most recently, one was held in Phoenix, Ariz., where 1 in 5 young people are jobless and not in school. Attendees had the chance to interview with 25 potential employers, including Starbucks, Microsoft, and Nordstrom.
From teens hoping to gain their first work experience to recent graduates looking to support themselves while they pursued their passions, to others using the job fair as a chance to hone their interviewing skills, meet some of today's youngest job seekers.  

Marisa Ocano, 19
G/O Media may get a commission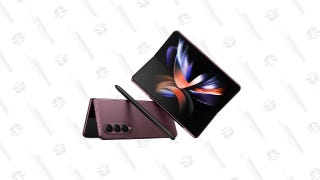 Save Up to $300
Galaxy Z Fold4
Marisa Ocano recently quit her job at IHOP, which she'd held for three years, in search of something better. While she currently has a temp job, she's looking for a permanent position. "[Job searching] is a lot more difficult that I thought," Ocano says. The biggest struggle with her job search is breaking out of the food industry.

Kaleb Beam, 16
Kaleb Beam, who attends an online high school, was looking for his first job. Beam hopes a job will give him a chance to gain more social skills before he begins college. He had interviews with Target and Starbucks lined up for the day, but said he'd take "anything…that'll give me a head start."

Lyndon Huber, 26
At 26, Lyndon Huber is a little older than the target age group for the job fair. Huber had been an independent caregiver, while also attending community college, until about two weeks ago when his patient moved into a care facility. Given the chance, Huber would tell the presidents and CEOs of the companies participating in 100K Opportunities how frustrating it is being a young person looking for a job today. But, he says, "They're doing the right thing by showing up to a job fair."

Ivan Chong, 23
"It was demoralizing," Ivan Chong says about a job fair he had attended a week earlier that was targeted at an older audience. Chong felt as though some of the employers dismissed him as soon as they learned he had a filmmaking degree. "At the end of the day, I will find something that I can be curious about in any given position and explore that further," says Chong, who plans to make independent films on the side while working full-time to support himself. At the job fair, he was considering some hotel employers. "A hard day's work for me is getting just lost in it and having that itch to go further."

Danielle Reyes, 22
Lacking interview experience, Danielle Reyes used the job fair as an opportunity to practice her interview skills. Her goal, of course, was to also walk away with a job, ideally one where she would get to put her passion for customer service to use. "I just enjoy making other people's day," Reyes says. To start, she got a new hairstyle courtesy of JCPenney.

Zoe Ramirez, 16
Since her high school volleyball season ended, Zoe Ramirez has been hunting for jobs by submitting applications online. The lack of face-to-face contact has made it difficult for Ramirez to connect with her potential employers. Ramirez's mother, Gayle Deaver, saw an ad for the job fair and thought it would be a good opportunity for her daughter. "You get a lot from eye contact," Deaver says.

Dan Galaviz, 17
Dan Galaviz landed a job within the first hour of the job fair. The 17-year-old will soon be making cappuccinos and Frappuccinos as a Starbucks barista. At the event, Howard Schultz, chairman and CEO of Starbucks, described the kind of person his company was looking to hire as bright and driven. "I quit my job at McDonald's, and I was looking for something else," Galaviz says. "It worked out pretty good for me." Galaviz eventually hopes to become a sports broadcaster.
Fusion was a media partner at the Phoenix 100K Opportunities job fair.
Evie Carpenter is a visual journalist based out of Phoenix and a born-and-raised Phoenician. She believes that nothing can match the power of a good visual, whether it be a still photo, video, or design, and oftentimes, visuals are the best way to tell someone's story.