The Education Department trumpeted this week that the nation's high school graduation rate has reached a record high…of 81 percent.
Viewed another way, the data shows that nearly one in five students who started high school in 2009 didn't graduate four years later.
While that's not a bad stat as far as the U.S. is concerned, it's pretty awful compared to other wealthy countries around the world.
Here are seven countries with better high school graduation rates than the U.S.*
1. Slovenia - 96 percent
With a population of just 2.1 million, the country is working with far fewer students than the U.S. But it's also getting them through school at a much higher rate.
G/O Media may get a commission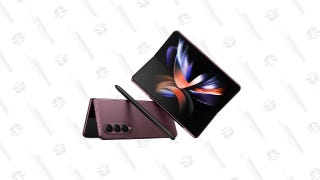 Save Up to $300
Galaxy Z Fold4
2. Germany - 95 percent
German boys are slightly more likely than German girls to complete high school, but either way, the country ranks high when it comes to graduation rates.
3. Iceland - 95 percent
In recent years, Iceland has focused on preventing dropouts — with good results. The government invests heavily in education, and focuses on teacher training. Iceland also developed a national curriculum, which makes evaluating progress easier.
4. Japan - 93 percent
Japan has a more centralized education system than the United States. Teachers are expected to focus on the moral and social development of students as well, and there is wide support in the country for such instruction.
5. Spain - 93 percent
While Spain has struggled with high dropout rates, the country recently passed the Organic Law for Improving Education Quality, which introduced standardized testing and aims to improve the education system.
United Kingdom - 93 percent
The United Kingdom offers more "tracks" for completing secondary schooling. While some 16- and 17-year-olds complete what in the U.S. would be a standard high school experience, others pursue a more vocational track. While the word tracking draws red flags in the U.S., the practice is more accepted, even institutionalized, in the United Kingdom.
7. Chile - 84 percent
Chile's economy has improved in recent years, the benefits of which have positively impacted the education system and secondary school enrollment. While the first two years of high school are fairly general, students are given more freedom than in the U.S. to choose electives and vocational classes in the final two years.
There are a number of reasons these countries may rank higher. Some offer more variety in high school - the option to pursue a vocation like automotive repair, for instance. Many countries are not working with a population as diverse as that of the U.S., and graduation rates vary widely by income and race.
There are a handful of places ranked lower by the OECD, including China at 76 percent and Mexico at just 47 percent.
As President Barack Obama said during his 2011 State of the Union, "Over the next 10 years, nearly half of all new jobs will require education that goes beyond a high school degree. And yet, as many as a quarter of our students aren't even finishing high school."
And instead of competing with only students from the U.S., today's high schoolers will need to prove their qualifications for college and jobs on a global level. At the moment, one out of five U.S. kids isn't even in the game.
*It's difficult to compare high school graduation rates around the world because the term means different things in different places. With that in mind, we've used the 2012 upper secondary level graduation rates, which are the most recent figures provided by the Organisation for Economic Cooperation and Development, which tracks trends globally. Their methodology places the graduation rate for the United States at 79 percent, slightly lower than the most recent government-provided figure of 81 percent.
Emily DeRuy is a Washington, D.C.-based associate editor, covering education, reproductive rights, and inequality. A San Francisco native, she enjoys Giants baseball and misses Philz terribly.