In an announcement that rocked New York State politics to the core, Amy Schumer has RESCINDED her endorsement of gubernatorial candidate Cynthia Nixon.
"I wanted to vote Nixon, but sadly, i don't believe she would know what the heck to do," Schumer wrote in an Instagram post on Tuesday. "She needs to be able to pressure the state legislature in stuff but I don't believe she has enough connections upstate."
According to the New York Post, Schumer initially donated $10,000 to Nixon's campaign. But instead, during New York's primary election on Thursday, Schumer will be voting for this guy.
"Andrew isn't my fav dude But he's good gov," Schumer wrote, referring to current governor/snake Andrew Cuomo.
Cuomo is not a "good gov;" even the recent New York Times Cuomo endorsement basically called him a corrupt hack whose petty feud with New York City has amplified the rapid devolution of this country's most expansive and celebrated public transportation system.
G/O Media may get a commission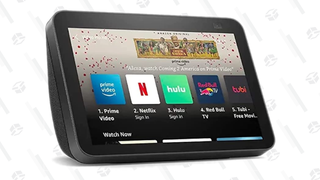 But it is noteworthy that Schumer is related to U.S. Senator Chuck Schumer, who endorsed Cuomo last week. Did Uncle Chuck sway Schumer? Or was it these cute animals who inspired her to change her vote?
Schumer did endorse Zephyr Teachout over Public Advocate Tish James for Attorney General, even though the former has vowed to fight Cuomo on corruption, while the latter's embraced him, per the New York Times.
It's unclear who the other celebrities who've donated to Nixon's campaign will vote for now that Schumer's flipped. In July, Time reported Nixon had received money from a slew of local stars, including Rosie O'Donnell, Alec Baldwin, Mary Louise-Parker, and Taylor Schilling. No word on where they or their pets stand currently.
I am sort of floored someone donated $10,000 to a campaign they don't even ultimately support, but I think I once gave $15 to Michael Bloomberg, so perhaps we're really the same.
CORRECTION: This post originally said that Chuck Schumer is Amy Schumer's uncle. He is actually her father's first cousin.