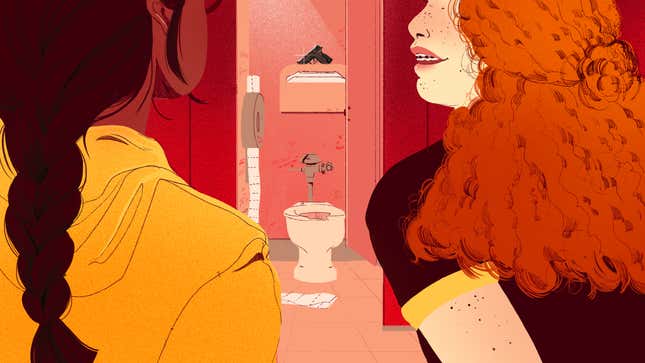 Students at the University of Texas at Austin got a surprising and urgent message last month through the university's emergency alert system.
The message that went out on February 20 said that "an unattended holstered pistol" had been found in a women's restroom on campus. A student who had a license to carry came forward to claim the gun shortly thereafter.
Then, the next day, it happened again.
"Another unattended gun was found in the women's restroom," read the alert from February 21.
Before these two incidents, the school had "no reports of weapons being left unattended," a spokesperson for UT Austin told Splinter. (UT Austin opened its doors in 1883.) That might be because students in Texas weren't allowed to legally bring guns onto public university campuses until the summer of 2016, when a law known as "campus carry" went into effect. The law allows anyone with a license to carry a handgun to bring a concealed firearm into public university buildings, classrooms, and dorms.
The most common way gun owners carry concealed handguns is to attach the weapon to their belt or waistband, Dr. David Yamane, a Wake Forest University sociology professor who studies gun culture, told Splinter. But that becomes an issue when you to sit on a toilet and you're carrying a gun that weighs a few pounds around your waist. So people sometimes take their guns off and find a space in the stall to stash them.
"It truly is a practical problem that many people have when they carry concealed weapons," Dr. Yamane said. "With the liberalization of gun carry laws you are going to see a small number of people doing things like carrying a concealed gun into a bathroom, taking the gun off, and forgetting to put the gun back on."
Yamane said that the rate of forgotten guns is relatively low compared to the number of people who carry concealed weapons on a daily basis. But it's a common enough problem that the National Rifle Association has tips for its members on how not to forget their guns in the bathroom. "We hear many stories of people leaving guns in the stall or on the sink, even law enforcement personnel," notes a 2017 article in the NRA's publication Shooting Illustrated.
At the same time, the NRA is also advocating for teachers and other school personnel to be allowed to carry guns in schools in the wake of the Parkland shooting, which left 17 people dead. If teachers are allowed to carry weapons into schools, we know what is bound to happen.
The NRA did not respond to Splinter's request for comment.
Splinter has identified at least 13 cases since 2014 where students, teachers, and police officers who were licensed to carry forgot their guns in restrooms at K–12 schools and universities.
This is what happens when adults bring guns to schools and university campuses.
A sixth grade teacher at Westbrook Elementary School who was carrying a concealed firearm accidentally fired her gun as she attempted to reholster it. She was struck by fragments from a bullet and pieces of the porcelain toilet.
She was carrying her gun legally with a concealed firearm permit.
An elementary school teacher at Cumberland Christian School put her holstered Ruger .380 LCP pistol on top of a toilet tank and left it there. Four children, ages six to eight, used the restroom while the loaded gun sat on top of the toilet.
One of the kids told a parent about the gun. The parent then told a teacher, who finally removed it.
A Ringgold High School student found a loaded gun in a school restroom. School officials later determined the gun belonged to a district security guard.
May 2017 — Holly Hill, FL
A student at United Brethren in Christ Academy found a loaded gun in a campus restroom. School officials said the gun was accidentally left in the restroom by a security guard. The gun wound up belonging to Charles Mills, 72, a volunteer at the school.
A University of Kansas student found a loaded .38 caliber revolver on the toilet in a men's bathroom on the fourth floor of Wescoe Hall.
The student reported the gun to his graduate teaching assistant before the beginning of class.
The University Daily Kansan reports:
Teaching assistant Kate Nygren called 911 immediately. She said she is not sure what happened afterwards, since she had to start class.

"I called the number that I have most immediate to me," she said. "I think that what this indicates is that we maybe are having an issue with a degree of education about how to conceal and carry, how to report incidents relating to the reality of guns on campus and that may be something that the school needs to take very seriously."
Police officers who confiscated the weapon said the gun was reported stolen, according to the school paper.

An off-duty police officer with the Phoenix Police Department forgot his gun inside a restroom stall at a public library on the Hamilton High School campus. The "loaded gun was found in a holster sitting on the handicap rail of the bathroom," according to according to KNXV-TV.
The gun was found by a student who reported it to a library staff member. Chandler Police said after an investigation they determined that no crime was committed.

A staff member at Sacred Heart of Glyndon left her loaded gun on a small table in the faculty restroom.
"The gun was discovered when the staff member mistakenly left it on a small table in the faculty restroom after removing it from a body holster while using the restroom," Archdiocese of Baltimore spokesperson Sean Caine said in a statement at the time. "A faculty member found it upon subsequently entering the restroom and reported it to school administrators."
The staff member was fired but not charged or arrested, according to the school principal.
A student bus driver for the University of Georgia forgot his gun in a campus restroom. The driver then returned—out of breath—to retrieve it, according to a statement released by the school.
The bus driver was licensed to carry but was not authorized to have a gun on campus. He was charged with having a weapon on school property and with reckless conduct for leaving a loaded gun unattended in an area where others had access to it, according to the Atlanta Journal-Constitution. Both charges are misdemeanors.
An Elliott Point Elementary School police officer left her handgun in a faculty restroom. The loaded gun was found by a parent.
The officer remains working at the elementary school during the investigation.
Isabella County Sheriff Michael Main was off-duty when he left his gun behind in a bathroom at Shepherd Middle School during a weekend event. The following Monday, a student found the gun and immediately notified faculty.

The 20-year law enforcement veteran said he didn't realize his weapon was missing until police reported finding the gun at the school, according to WEYI-TV.
The sheriff issued an apology on Facebook. "I understand clearly that I have a higher level of standard that must be met and quite frankly I let myself, my family and the community down."

The incidents listed here ended with responsible bystanders coming forward to report the guns. But that's not always the case. Lost guns do get into the wrong hands.
As USA Today reported last May, "Children under age 12 die from gun accidents in the United States about once a week, on average. Almost every death begins with the same basic circumstances: an unsecured and loaded gun, a guardian's lapse in attention."
Investigations have found that some weapons reported lost by law enforcement agencies in California have wound up in the hands of criminals. In Northern California, a missing police gun was used in a suspected murder.
And people who have years of training can forget a gun. In April 2017, a U.S. Air Marshal forgot her loaded gun in an airplane bathroom. In January 2015, a member of Senate Majority Leader Mitch McConnell's security detail left his Glock and magazine stuffed in the toilet seat cover holder of a Capitol Visitor Center bathroom stall.
That same year, in March, a member of John Boehner's security team allegedly forgot his gun in the bathroom. CNN reported that a child found it. Law enforcement officers in local state capitol buildings have forgotten their guns in restrooms, too.

Politicians are certainly aware of this. No matter how much legislation they pass to restrict gun access, none of it will matter if anyone who walks into a school restroom can happen to find a gun.