Summer intern season is underway at the country's big tech firms, attracting many of the country's top computer science students to Silicon Valley for the season.
But an anonymous post on Reddit is warning the young engineers that their future might not be so bright with a particular company named after a South American river.
A post in the Seattle subreddit from the account "amzn_vet_throwaway" with the title "Dear Amazon interns, some advice from an old man who has been at Amazon way too long" instructs interns to look elsewhere for a job when their summer term is complete.
Per this alleged Amazon veteran:

Since I have been at Amazon I've seen hundreds of you guys come through, you're all smart as hell and you work yourselves to the bone over the summer for a chance to impress your mentor and get a job offer.
You are smart, driven, and are no doubt going to be successful in whatever you do, which is why I want to urge you to STAY THE FUCK AWAY from Amazon when it comes time for you to leave school and jump into the workforce.
G/O Media may get a commission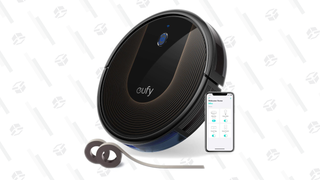 48% Off
Eufy BoostIQ RoboVac
The post was the top submission in r/Seattle on Tuesday morning, racking up more than 140 comments.
The person claiming to be an Amazon engineer (there's some question as to whether he or she currently works for the company) warns interns they likely will not be with the company for more than two years. If that happens, their stock options will only be about 20 percent vested and they will have to repay their signing bonus.
The post says that after two years, software engineers either begin the journey up the career ladder, or are put on "performance improvement plans" that usually are a one-way street to being fired. These plans previously were reported last September by Gawker through an anonymous Amazon employee, and the Reddit post links to that and other articles.
Several users claiming to be current or former Amazon employees posted in the comments section, some agreeing with the the original poster's assessment of working conditions at Amazon.

Amazon doesn't care about you.

I still order from them for convenience, but they are making willful choices to screw their employees over.

Leave Amazon and find something better.
Several others defended their company as not as bad as the original post claims (or at least living up to the industry standard).

I've been at Amazon for a few years now. Making 50% more than my previous tech job. Stock and signing bonus were sweet. I work with a lot of extremely bright people. Life/work balance isn't ideal, but no worse than my previous tech jobs. No complaints here.
And, of course, employees of that other Washington state tech company showed up to dig in on the schadenfreude.

Hey bright interns! Love Seattle but afraid of what is written above? Come join us at this retirement community across the lake called Microsoft. Same pay, better benefits, better career development and actual work-life balance. It's pretty awesome, trust me.
We've sent a message to the Reddit account that made the post to see if we can get some more info on what motivated the alleged Amazon employee to post his warning, but the screen name was likely called "amzn_vet_throwaway" for a reason. We have also reached out to Amazon for comment.