In a cruel twist of fate, a prominent conservative leader who has blamed LGBTQ people for natural disasters lost his home in the flooding current ravaging Southern Louisiana.
The area is in the midst of one of the worst natural disasters to hit the United States in years. A "1,000-year rain" has dumped as much as two feet of water onto parts of the state over the course of just 48 hours.
According to a Red Cross official, the flooding is "the worst to hit the United States since Superstorm Sandy," with damages expected to hit, if not exceed, $30 million dollars. The organization on Wednesday estimated there were currently 7,000 people left sleeping in shelters, and many thousands more forced to endure the intense summer heat without any electrical power.
By Thursday, the Louisiana officials had pronounced 13 people across multiple parishes dead as a result of the flooding. At least 30,000 people have been rescued from affected areas, with 40,000 homes damaged, the Times-Picayune reported. In response to the flooding, President Obama declared 20 Louisiana parishes disaster areas, and announced federal aid will be available, which includes "grants for temporary housing and home repairs, low-cost loans to cover uninsured property losses, and other programs to help individuals and business owners recover from the effects of the disaster."
Among those homes destroyed was one belonging to Tony Perkins, president of the ultra-conservative Family Research Council, a group described as an extremist anti-LGBTQ organization by the Southern Poverty Law Center.
G/O Media may get a commission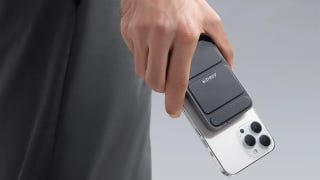 15% off
15% off Anker Top Ten Products
Take charge
Treat yourself to a portable power bank, a magnetic wireless battery for iPhones, or even a solar generator. There is a reason these are in the top ten. For instance, the Anker 747 Power Bank is a 4-in-1 charger utilizing USB-A and USB-C to be capable of charging up to four devices at once. Great to take with you when traveling and in need of keeping your phone, laptop, and even Nintendo Switch powered on.
On Tuesday, Perkins posted pictures of his home, partially underwater, to Facebook, calling the disaster a "devastating situation for our entire community" and thanking his supporters for their prayers.
During an episode of a Family Research Council podcast this week, Perkins described leaving the house by way of canoe with his family, calling the flood something of "biblical proportions" and "unlike anything we've seen before."
Perkins went on to describe the devastation he'd seen in the community as a result of the flooding, framing his personal ordeal in religious terms and saying he was now living off "God's provisions."
This linking of nature and God is in keeping with a number of controversial statements Perkins has made throughout his career.
In 2014, Perkins stated that natural disasters were much more likely to be connected to acts of God than belief in lynchpins of modern science, such as climate change and evolution.
In 2015, Perkins hosted author Jonathan Cahn, a messianic rabbi, on his radio show. There, Cahn predicted Hurricane Joaquin would possibly make landfall in Washington DC, in part due to the United States' having legalized same-sex marriage—particularly, the White House's having lit itself up in rainbow colors during Pride Month.
Perkins himself seemed to agree, telling Cahn:

There are those on the left like to mock these things. America has a history, our leaders actually, our presidents, our governors, when these things have happened in nature, like hurricanes—all of these external events that put our nation at risk. There's a long line of historical tradition here where we—not so much in recent years—but they had stepped back and said "is God trying to send us a message?"
Hurricane Joaquin ultimately missed Washington, but did cause significant devastation throughout the Bahamas.
According to the Southern Poverty Law Center, Perkins gave a speech in 2011 in which he insinuated that members of the LGBTQ community "are engaged in activity, behavior, and an agenda that will destroy them and our nation."
Perkins and his organization have also seemingly linked anti-LGBTQ sentiment to acts of terrorism and mass murder, as well. In 2013, the Family Research Council released an email citing both the school shooting in Newtown, CT and the Boston Marathon bombing, in which it claimed:

America doesn't need gun control, it needs self-control. And a Congress that actively discourages it—through abortion, family breakdown, sexual liberalism, or religious hostility—is only compounding the problem.