The latest version of the iTunes Terms and Conditions is 20,656 words long. You probably haven't read the whole thing, or any of it.
But Robert Sikoryak has, and he's illustrating it all. The graphic novel he's creating is called iTunes Terms and Conditions: The Unabridged Graphic Adaptation, and he's posting it on Tumblr a page a day. It's a fascinating, very well-drawn reframing of the binding agreement that all of us are far too unfamiliar with.
Sikoryak, a comics artist known for rendering classic works of literature in the style of classic comics (Kafka in the style of Peanuts, Dostoyevsky a la Batman), as well as comics parody work, told me via email that he chose to illustrate the iTunes T&C because he "liked the challenge of using a text which isn't made to be illustrated, and it truly resists being visualized in a straightforward way." He says that his plan "was to play with the long form of the graphic novel, which is so popular right now." He started this project last November, and began posting the pages online late this September.
The protagonist of each comic is dressed like Steve Jobs, in the Apple founder's famous black turtleneck, jeans, and glasses, and then imagined as if he's a part of a world drawn by R. Crumb, Alison Bechdel, Dan DeCarlo, and many other comic artists. These Jobs avatars wander through the panels, speaking (or sometimes thinking) the terms and conditions. Sometimes they talk to themselves, though often with conversational partners, often anthropomorphized apples, or Apple devices.
G/O Media may get a commission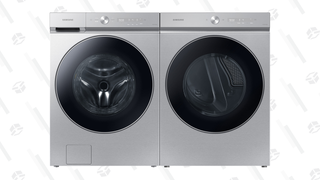 Get $500 back in credit
Last Chance: Samsung Bespoke AI Washer and Dryer Preorder
Sikoryak told me in an email that he "was helped by the fact that Steve Jobs makes a perfect comics character, with his iconic outfit and aura." He also added "If I had chosen to illustrate the 'Amazon Conditions of Use,' I wouldn't have had as compelling of a model," which, though it may not be intended as such, is a sick Jeff Bezos burn.
The novel is posted a page at a time on Tumblr, and is also available for sale in chunks. As of this writing there are 48 pages posted, and Sikoryak says that when it's done it'll be 94 pages long. Originally it was supposed to be 70, but an update to the terms and conditions in June expanded them significantly, giving Sikoryak a bit more to illustrate.
Though he doesn't pick styles to match the content of the terms and conditions, occasionally there's an echo between the two. Sikoryak offers the example of  page 40, where "[t]he narrator is walking through a graveyard while the text describes how Apple is not responsible if you lose, destroy, or damage your content."
That said, if you catch what seems like a relationship between the text and the images, it's probably in your head. The pages were drawn ten at a time, then matched with text.
The scope of the project is wonderful to explore, and it accomplishes the seemingly impossible task of spicing up the bone dry legalese that you zoom through before clicking "I agree."
Ethan Chiel is a reporter for Fusion, writing mostly about the internet and technology. You can (and should) email him at ethan.chiel@fusion.net