A transgender high school student in Palatine, Ill. must be given full access to the girls locker room like her female classmates, the Department of Education ruled on Monday.
The decision from the Office of Civil Rights (OCR) came after an investigation of the Township High School District 211's rule that the student was expected to shower and change separately from the other girls before and after sports and physical education classes. That requirement is in breach of federal anti-discrimination laws, specifically Title IX, the investigation found.
The student, whose name has not been released, identifies as a girl and plays on a girls' sports team, according to CNN. In 2013, the American Civil Liberties Union of Illinois filed a complaint with the department on behalf of the student.
The student "experienced an ongoing sense of isolation and ostracism" and was disadvantaged in her education as a result of the school district segregating her locker room use, according to the case findings.
"This decision makes me extremely happy–because of what it means for me, personally, and for countless others," the student said in a statement from the ACLU of Illinois. "The district's policy stigmatized me, often making me feel like I was not a 'normal person.'"
G/O Media may get a commission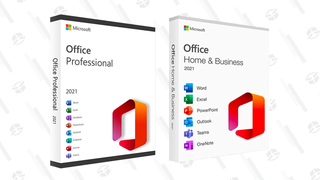 89% off
Microsoft Office Professional 2021 Lifetime License
The school district has one month to comply with the ruling or it risks losing federal funding for its schools. District superintendent Daniel Cates told the New York Times in a statement that the department's ruling is "a serious overreach with precedent-setting implications." He wrote a letter in October defending the district's rules, citing the privacy of other students as a major reason for not providing full locker room access to transgender students.
This is the first time the U.S. Department of Education has issued a clear ruling on a transgender student's access to locker rooms and bathrooms, the ACLU says, sending a message to other schools around the country that they must comply with anti-discrimination laws for transgender students.
"The Department of Education's decision makes clear that what my school did was wrong," the student said in the statement. "I hope no other student, anywhere, is forced to confront this indignity. It is a good day for all students, but especially those who are transgender all across the nation."