The death of an undocumented immigrant in an Immigration and Customs Enforcement jail has ignited protests among growing concern about the murky circumstances surrounding his death.
Rolando Meza Espinoza died earlier this month in ICE custody at the Hudson County Correctional Facility, according to his family and lawyers. Meza Espinoza was a 35-year-old father of three from Honduras.
"He was a good person. A good man. A good husband, a good father. He was hardworking," his partner of 10 years, Darleny Rivera, told the New York Daily News. "I asked 'Why' if he hadn't done anything wrong."
In response to his death, an ICE spokesperson told the Daily News that he "died of complications of a previous medical condition."
His family told the paper that he had a number of medical conditions, including cirrhosis, anemia, and diabetes. But, his lawyer told the Daily News, he was allegedly only provided medication for his diabetes.
G/O Media may get a commission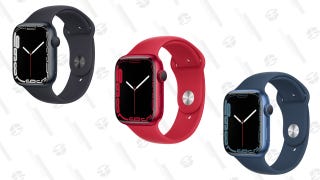 Up To $45 Off
Apple Watch Series 7
Supporters and immigrants' rights groups rallied outside of the Hudson County Correctional Facility on Monday in Meza Espinoza's memory and for other immigrants detained there. In 2016, the jail was the subject of multiple complaints of "substandard medical care."
At the rally, they chanted, "No excuses for human rights abuses!"
Troublingly, there are few details about the circumstances that preceded his death that both ICE and Meza Espinoza's family and attorneys seem to agree on.

Meza Espinoza was on his way to a construction job in Long Island when he was apprehended by ICE agents in March, according to The Hudson County View.
While in ICE custody at the Hudson County Correctional Facility, he experienced health complications, including gastrointestinal bleeding, the family's lawyer, Manuel Portela, told the Daily News. 
According to the account his lawyer gave to the Daily News, Meza Espinoza was taken to a nearby hospital on June 8 and died on June 10.
Here's where things get complicated. There are a series of contradictory, opaque reports about Meza Espinoza's death that ICE has yet to untangle. I have contacted ICE about each of them. I have also contacted Manuel Portela, the lawyer for Meza Espinoza's family.
Among the contradictions:
ICE announced the death of Mejia-Bonilla, who was from El Salvador, from "internal bleeding and hemorrhagic shock" in a press release earlier this month. According to the press release, it was the 10th time a person died in ICE custody during this fiscal year.
I will update this post if I hear back from ICE or Meza Espinoza's representatives about any of these issues.