It's not often that presidential candidates are confronted by people who have been affected by deportation face-to-face. But during Wednesday night's Univision-Washington Post Democratic debate, a Guatemalan immigrant named Lucia changed that.
With her five kids sitting next to her near the front of the audience, Lucia explained that her husband had been deported three years ago.
"I have a great pain, me and my children, because the father of my children was deported," she said in Spanish. "What will you do to stop deportations and reunite families?"
She and her family were standing in for thousands of immigrants in the same situation. A total of 4.5 million U.S. citizen children have at least one parent who is undocumented, and a 2011 study found that at least 5,100 children had to live in foster care after their parents were detained or deported.
Sanders started by noting that the New York Times called his immigration policy the most progressive of any candidate's. "The essence of what we are trying to do is to unite families, not to divide families," he said. "That is beyond comprehension and policies that should not be allowed to exist."
He seemed to slightly misunderstand the issue, though, saying that "your children deserve to be with their mother" when actually it was the father who had been deported.
G/O Media may get a commission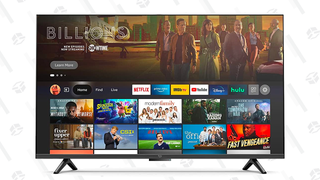 22% off
Amazon Fire TV - 50" Omni Series 4K - Early Access Deal
Clinton took a more personal approach, telling Lucia how much she appreciated the question. "Please know how brave I think you are coming here with your children to tell your story," Clinton said. "This is an incredible act of courage that I'm not sure many people really understand."
"We must do more to let stories like yours be heard more widely so that more Americans know what the human cost of these policies are," she said. "I will do everything I can to prevent other families from facing what you are facing and I will do everything I can to pass laws that would bring families back together."
Earlier in the debate, both candidates had vowed not to deport children or undocumented people without criminal records. Those promises meant something.
But the image of the candidates being asked a question directly from someone whose family was shattered by deportation—and Lucia's bravery for standing up on national TV—may make a stronger impact than anything else.
Casey Tolan is a National News Reporter for Fusion based in New York City.