If you were watching iconic morning program The View today, you may have noticed that things felt a little...off at the top of the show. Perhaps that was because two of the hosts of the show, Joy Behar and Meghan McCain, reportedly got into a gigantic fight the day before.

The (alleged) fight really began on the air, when McCain interrupted Behar while she was waxing poetic about George H.W. Bush's legacy compared to Donald Trump's. "I'm not interested in your one-issue—" she began. "I don't care what you're interested in and I'm talking!" Behar shot back, adding, for emphasis, "Dammit!"
Whoopi Goldberg quickly cut to commercial, but you could still see Behar and McCain going at it—and hear Behar shouting, "My God!"
According to the Daily Mail, they continued to go at it during the commercial break (asterisks theirs):
But the source told DailyMail.com that Behar threw her hands in the air, yelled "My God!" and "Get this b***h under control."

"If this s**t doesn't stop I'm quitting this damn show. I can't take this much more," Behar allegedly fumed.

Producers ran to the stage in an attempt to deescalate the situation, but Behar continued to rant, the source said.

"I've tolerated a lot of s**t on this show but I'm at my wits' end with this entitled b***h. Enough already! Enough already! I'm not playing nice any longer," Behar shouted, despite the studio audience being able to hear it all.

[...] "I don't know why she's so upset," McCain reportedly said. "I just wanted her to focus on President Bush and not bring Trump into this for once."
G/O Media may get a commission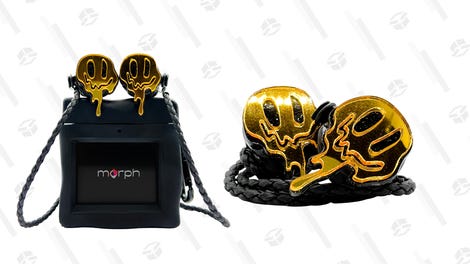 morph audio
Morph Earphones
Yikes yikes yikes. (I have reached out to the show for comment and will update if I hear back.) Perhaps that is why you could feel the frost emanating from the set on this morning's broadcast. In the first segment, a notably subdued McCain made a few, muted comments about the Mueller investigation, including one weird aside about how she would "still say 'gun'" on the show. She interacted with Behar, who seemed to be blithely unconcerned with her, once.
Is it chilly here or is it just me? Please let this feud continue, our world is so bleak and it is one of the few good things in it.