Three days ago, Thabo Sefolosha disclosed his intentions to sue the NYPD for the fractured fibula he suffered after an encounter with police outside 1OAK nightclub on an early April morning. Today, Sefolosha penned a piece for GQ recounting his experience that night, including the lead-up to the incident and the aftermath.

In video of the incident obtained by TMZ, several officers can be seen surrounding Sefolosha and forcing him to the ground. One officer appears to hit him with a baton while he's lying face down on the pavement. If Sefolosha's GQ account is accurate, it's hard to look at the incident as anything other than an unambiguous case of unprovoked police brutality.
Here's Sefolosha describing the events leading up to the incident:

About 4:15 A.M., they turned the lights on at the club and told us it's time to go. Something happened, we're not exactly sure what. The police are outside closing the place down—directing people, telling them to move.

An officer came over to me and said, "Get the hell out!" I said, "Did I do something wrong? You can talk to me in a nicer way."
From there, officers allegedly continue to provoke Sefolosha; one officer says he could "fuck him up," to which Sefolosha responds, "You're a midget, and you're mad." This is the only moment, from his recollection, that registers as a provocation or wrongdoing on his end; a few minutes later, he takes a few steps toward a homeless man to hand him a $20 bill, then a police officer tells him he's going to jail.
He's then surrounded by cops:

Somebody kicked my leg, more than once, from the back to force me to the ground. I knew something had happened as soon as they did it; I'm an athlete, so I know how my body should feel. They were stepping on my foot, too, I guess to try to keep me there. I didn't feel like there was anything I could do to calm it down. I tried to show them I was cooperating. I tried.
G/O Media may get a commission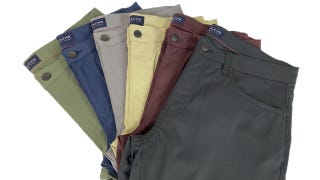 JACHS NY Fall Stretch Tech Pants
"It was an act of police brutality, and I believe it could happen to anyone," Sefolosha writes.
Michael Rosen is a reporter for Fusion based out of Oakland.