On Friday, TMZ broke the story that a potentially bloody knife had been found on the property of suspected (though acquitted!) killer OJ Simpson in the late 1990s. A construction worker on the Simpson property discovered the knife and handed it over to an off-duty police officer.
The LAPD quickly held a press conference to announce that they were examining the knife for DNA traces; speculation began that the knife could be related to the killing of Nicole Brown Simpson and Ron Goldman in 1994. Police officers have long been searching for the murder weapon in the case.
But wait! That was over 20 years ago! Why is it that this knife, apparently found on the premises of OJ Simpson's home decades ago, is just now being brought to the attention of the police and investigated for evidence? Turns out that, according to a jaw-dropping report from TMZ, the knife had been handed to an off-duty police officer, who decided to keep the knife as a conversation piece in his home.
According to TMZ:

Our law enforcement sources say the construction worker took the knife to the street, where he saw an LAPD cop. He told the officer where he found the knife and the cop took it.

Turns out the cop — who worked in the traffic division — was off duty at the time, working security for a movie shoot at a house across the street on Rockingham. Our sources say the officer took the knife home and kept it … kept it for years.

In late January of this year, after the cop retired from the LAPD, he contacted a friend who worked in LAPD's Robbery Homicide Division (RHD). The cop told the friend about the knife and said he was getting it framed to put on his wall. He wanted his friend to get the DR (Departmental Record) number for the Nicole Brown Simpson/Ronald Goldman murder case, which he planned on engraving in the frame.
G/O Media may get a commission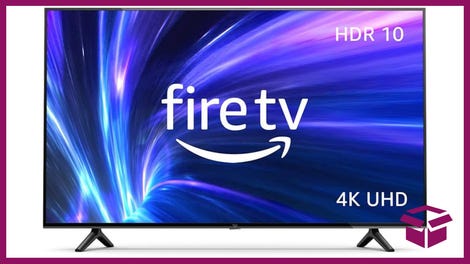 42% Off
Amazon Fire TV 50" 4K Smart TV
In a press conference, LAPD Captain Andrew Neiman confirmed that the police officer in question is now retired; Neiman also repeatedly refused to name the ex-officer who was keeping the knife at home. Even if it turns out there is evidence implicating Simpson on this knife, it is unlikely that Simpson will face any direct legal repercussions: double jeopardy prevents him from being tried for murder in this case again.
Simpson is currently serving 33 years in prison for his role in a kidnapping and armed robbery scheme from 2008.