An Ohio man was arrested on Thursday on charges that he solicited violence by reblogging a Tumblr gif calling for the deaths of U.S. soldiers.
Terrence J. McNeil, 25, reblogged a gif that included the addresses of 100 U.S. military personnel and advocated for killing them, along with ISIS propaganda, prosecutors said.
On Sept. 24, McNeil reblogged a gif reading "Islamic State Hacking Division," followed by "Target: United States Military" and "Leak: Addresses of 100 U.S. Military Personnel," according to the legal complaint against him. The gif looped "several dozen photographs" of U.S. military personnel, including their names and addresses. It ended with a picture of a handgun and knife.
Here's what the gif says:

O Brothers in America, know that the jihad against the crusaders is not limited to the lands of the Khilafah, it is a world-wide jihad and their war is not just a war against the Islamic State, it is a war against Islam… Know that it is wajib (necessary) for you to kill these kuffar! and now we have made it easy for you by giving you addresses, all you need to do is take the final step, so what are you waiting for? Kill them in their own lands, behead them in their own homes, stab them to death as they walk their streets thinking that they are safe.
G/O Media may get a commission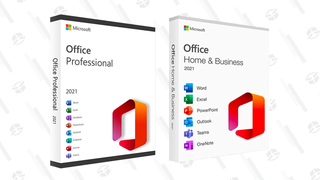 89% off
Microsoft Office Professional 2021 Lifetime License
The Tumblr account that the FBI says belongs to McNeil, abu-fil.tumblr.com, is still online with thousands of posts. We've confirmed that the military personnel gif on the account is still online—it was originally posted by another account on March 21. Here's the initial image:
In addition to ISIS propaganda, the account is full of an eclectic grouping of world photos, postings about Islam, and videos of extremist preacher Anwar Al-Awlaki. "23. Muslim. Northeast US. WOULD YOU LIKE TO KNOW MORE?" the account's bio reads. It's a sometimes bizarre combination of photos of militants and screenshots from cartoons:
McNeil also made posts honoring Muhammad Youssef Abdulazeez, who shot four marines and a navy soldier in Chattanooga in July, according to the complaint.
The complaint also cites a Twitter posting purportedly by McNeil reading "Just thinking of getting martyred puts a smile on my face." Eight different Twitter accounts listed in the complaint as belonging to McNeil have been suspended. One of the accounts at one point tweeted a link to the Tumblr page saying "my Tumblr," according to the complaint, and the IP addresses that Twitter provided to the FBI for these accounts led to McNeil.
McNeil, who lives in Akron, has no previous criminal history, the complaint said. As of Thursday afternoon, McNeil's case did not appear in the federal online court system, which makes identifying his lawyer impossible.
"While we aggressively defend First Amendment rights, the individual arrested went far beyond free speech by reposting names and addresses of 100 U.S. service members, all with the intent to have them killed," said FBI agent Stephen D. Anthony in a statement. "We will remain vigilant in our efforts to stop those who wish to support these despicable acts."
McNeil's case is only the latest in a string of arrests across the country of people who use social media to declare their support of ISIS, some as young as 17 years old.
We'll update this story if more information is filed in court or we can contact McNeil's lawyer.
Casey Tolan is a National News Reporter for Fusion based in New York City.
Ethan Chiel is a reporter for Fusion, writing mostly about the internet and technology. You can (and should) email him at ethan.chiel@fusion.net