Thursday is New Year's Eve. In years past, that may have meant ending the night waiting around in the cold for a cab. In 2015, it means dialing up a ride instantly on your phone. But how do you avoid a nasty surge price?
Harry Campbell is owner and founder of The Rideshare Guy blog and podcast. He's a full time engineer, but in his spare time he drives for Lyft, Uber and, before it announced it was shutting down, Sidecar.
We asked him how riders can avoid getting gouged by surge pricing on New Year's Eve, assuming public transportation is not an option.
UBER VERSUS LYFT
"Uber and Lyft are projecting the biggest night of rideshare ever on NYE but there are a few ways you can get around paying top dollar for your ride home. The first thing to know is that Lyft actually caps their Prime Time pricing at 200%, which is equivalent to a 3x surge from Uber. Uber meanwhile, has no cap on surge. It varies by city, but in general Lyft's Prime Time pricing is usually lower than Uber's surge if you were to check both at the same time—Uber may end up at 8-9x in major cities while Lyft will be capped at 5.
G/O Media may get a commission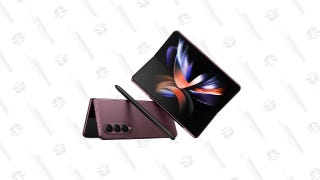 Save Up to $300
Galaxy Z Fold4
"So if you find yourself needing a ride at the busiest time of the night (typically when everyone is going home) make sure that you compare the prices between the two apps.
"WhatsTheFare has Lyft prices in real time but Uber prices are just an estimate (you have to manually enter in surge)."
APPS WITH NO SURGE PRICING
"There are some city-specific apps like Flywheel (Seattle, SF, SD) that have already promised no surge pricing on NYE in a clear attack on Uber's surge pricing."
PUTTING THE SHARE BACK IN RIDE-SHARE
"Alternatively, if you're in a city that has Lyft Line or Uber Pool you may be able to knock your fare in half if you opt for one of those options and don't mind carpooling with a stranger or two."
WAIT
"Riders need to remember that surge pricing is very dynamic and can change in a heartbeat so if you're able to wait it out, the prices will likely come down. But if you have to get home ASAP, then you're likely going to have to pay top dollar."
Here is Uber's surge price projection for New York City:
This post has been updated.
Rob covers business, economics and the environment for Fusion. He previously worked at Business Insider. He grew up in Chicago.