U.S. immigration officials in Oregon have arrested a 25-year-old man who in 2013 was granted DACA, the the federal program that provides some young immigrants a temporary work permit and protections from deportation.
Immigration and Customs Enforcement (ICE) officials arrested Francisco J. Rodriguez Dominguez in Portland early Sunday morning, according to the ACLU of Oregon.

"He's grown up here his whole life, a 5-year-old growing up here, and 25 years later, all of a sudden, boom," his sister Elisabeth Rodriguez told KOIN, a local news station.
Dominguez, who was born in Mexico and came to the U.S. at the age of 5, was charged last year with a misdemeanor for driving under the influence.
G/O Media may get a commission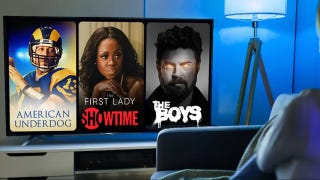 UNDER $1
99¢ Prime Video Channels
Attorneys say Dominguez entered into a DUI diversion program in December 2016 that would have allowed him to remain eligible for DACA after completing the program. Attorneys say he quickly completed nearly all of the requirements of this program, and attended all his court dates and required meetings.
The ACLU of Oregon said ICE officials visited Dominguez's home early Sunday without a warrant for his arrest. His family took advice that's commonly shared at immigrant rights trainings and initially didn't open the door for ICE officials. But ultimately they opened the door.
"His family said it was terrifying and they didn't know what to do. ICE agents were banging on the door. They didn't have a warrant, and were told they couldn't come in, but they wouldn't stop banging on the door," said Stephen Manning, a local immigration lawyer who talked with the family, according to an ACLU of Oregon.
Dominguez worked at a local community group coordinating a food pantry service for low-income students at local schools. He was also an active member and volunteer at Holy Cross Episcopal Church in Portland. The priest said the congregation was devastated when they heard Rodriguez Dominguez was detained on Sunday, according to a statement published by the ACLU of Oregon.
Attorneys also said they were shocked to learn ICE arrested their client because they say a judge had already determined that Dominguez wasn't a danger to the community or a flight risk.
"Despite Francisco's best efforts to make good on his mistake, ICE has taken the position that even a misdemeanor DUI eligible for diversion is enough to end DACA status," said Andrea Williams, executive director of Causa Oregon, an Oregon immigrant rights organization, in a statement.
"This policy is tearing apart his family, our communities, and does nothing to keep us safer," said Williams.
Dominguez is one of least four cases of ICE detaining a DACA beneficiary or individual renewing their application. In February, ICE detained Daniel Ramirez Medina, who is still in custody fighting his deportation. The following week, ICE detained and released a 19-year-old San Antonio student. And most recently, ICE detained Daniela Vargas of Jackson, MS, after she spoke at an immigrant rights rally. Vargas has since been released.
ICE officials did not respond to Fusion's inquiry requesting additional details surrounding Dominguez's arrest.
Immigration officials in previous cases have maintained Deferred Action may be revoked any time the agency deems someone is a public safety threat. Since the start of DACA, the Department of Homeland Security has terminated the program for 1,500 recipients.