Raising comparisons to last year's still-missing Malaysian Airlines Flight 370, a passenger plane with 162 people on board has gone missing off the coast of Borneo en route from the Indonesian city of Surabaya to Singapore.
Details of the disappearance are still fuzzy, and a search is still ongoing, but here's what we know (and don't know) so far.
What we know:
-AirAsia is one of Southeast Asia's most popular discount carriers, covering about 100 destinations across 15 countries. Most of these are operated by affiliates and subsidiary airlines. It was one of these, Indonesia AirAsia, which was operating AirAsia flight QZ8501.
-AirAsia flight QZ8501 was headed from the Indonesian city Surabaya to Singapore, departing at 5:35 a.m. local time and due in Singapore about three hours later, according to the BBC.
-That's a popular flight route in Indonesia—at least six other aircraft were flying in the general vicinity.
G/O Media may get a commission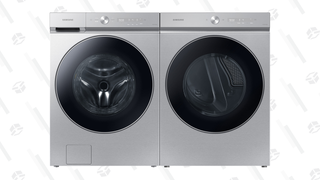 Get $500 back in credit
Last Chance: Samsung Bespoke AI Washer and Dryer Preorder
-Not long into the flight, the plane's cabin crew requested to air traffic controllers to ascend from 32,000 to 38,000 feet to avoid a cloud, according to Indonesian authorities. But the controllers denied the request because of "traffic," according to the Indonesian newspaper Kompas.
-Air traffic control then lost contact with flight QZ8501 approximately 40 minutes later. Indonesian authorities reported this at 6:17 a.m. local time, while Singaporean authorities reported 6:24 a.m.
-The New York Times reported that Earth Networks, a company that tracks global weather conditions, counted a number of lightning strikes near the flight's path around that time of morning.
-Indonesian authorities, however, said there had been no emergency beacons of the kind and these would usually go off in case of an accident.
-AirAsia did not announce the missing plane on its Facebook page until about four hours after it supposedly went missing. The airline did not explain the delay in the announcement.
-According to a statement from AirAsia, flight QZ8501 was carrying two pilots and five cabin crew members along with 155 passengers. Those passengers included 138 adults, 16 children, and 1 infant. Among both passengers and crew, AirAsia says 156 were Indonesian, three were South Korean, one was French, one was Malaysian, and one was Singaporean.
However, the BBC reports at least one British national may have been on board, thought to have been traveling with his two-year-old daughter.
-Rescue teams are currently searching an area around the island of Belitung, between Sumatra and Borneo. At first, authorities called off the search around nightfall local time, citing weather conditions, but the search resumed about five hours later and is ongoing.
-Indonesia's air transport director says there is no way the plane is still in the air, as it would have run out of fuel by now. Teams are searching both mountains and oceans.
-Previous to this incident, AirAsia and its subsidiary carriers have enjoyed excellent safety records, with no fatal accidents. UPI reports the captain of the flight had 20,537 hours of flight experience, and the co-pilot, 2,275.
What we don't know:
-It's unknown whether lightning could have hit the plane or diverted the flight's usual path. A flash could temporarily disorient pilots or interrupt navigation systems, but authorities say it's unlikely it could destroy an engine. The plane was also certified to fly for several hours on a single engine.
-Most importantly, as of Sunday, Indonesian authorities could still not explain why the plane had lost contact. Until more details are released, every possible cause is conjecture.
Arielle Castillo is Fusion's culture editor, reporting on arts, music, culture, and subcultures from the streets on up. She's also a connoisseur of weird Florida, weightlifting, and cats.
Rafa Fernandez De Castro is a Fusion consultant for Mexico and Latin America. He covers Mexican youth, politics, culture, narcos and funny stuff once in a while.