In early November, a poll of registered voters in Alabama found that nearly a third of those surveyed were more likely to vote for accused child molester Roy Moore after allegations surfaced about past sexual attacks against teenage girls.
Now, a new poll has found that while likely voters in the upcoming Dec. 12 special election to fill Attorney General Jeff Sessions' vacant Senate seat are nearly evenly split between Moore, a Republican, and Democratic candidate Doug Jones, a majority of Alabamians believe Jones has "higher standards of personal moral conduct."

Which again proves that many Republicans in Alabama believe voting for a Democrat is worse than voting for an accused child molester.

The Washington Post-Schar School poll, which has a 4.5–point margin of sampling error, was conducted earlier this week. It shows Jones with a slight lead of 50% of surveyed voters compared with Moore's 47%—which is well within the margin, making speculation impossible as to a possible winner with the election still nearly two weeks away.

There is some good news in the poll for those who don't think the U.S. Senate is an appropriate employer for a man who has been accused by multiple women of sexually harassing or assaulting them when they were teenagers. As The Washington Post points out, the allegations against Moore "hang heavily over a race that would favor a Republican under ordinary circumstances in this deeply conservative state."

G/O Media may get a commission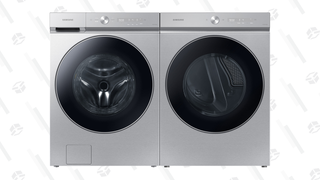 Get $500 back in credit
Last Chance: Samsung Bespoke AI Washer and Dryer Preorder
Under "ordinary circumstances," Jones likely never would have reached 50% polling numbers. And among voters who say that moral conduct is the most important factor in their decision, Jones' support is more than double Moore's, at 67% versus 30%, respectively.

The problem is that only one in four voters say that moral conduct is the most important factor in the race. Another problem is that more people are uncertain about whether or not the allegations are true than those who believe the accusers. These numbers currently stand at 37% versus 35%, respectively, according to The Post. Additionally, 28% of those surveyed don't believe the accusations are credible.

While this bizarre logic and skewed morality may seem to confound most of the rest of the country, it isn't surprising considering that the state is run by a governor who says she doesn't "disbelieve" Moore's accusers, but plans on voting for him anyway. Republican Gov. Kay Ivey said in mid–November that, "We need to have a Republican in the United States Senate to vote on the things like Supreme Court justices."

And in related news, President Donald Trump now says he will campaign for Moore next Friday in Pensacola, FL. The announcement comes less than a week after White House press secretary Sarah Huckabee Sanders told reporters that Trump wouldn't go to Alabama because, "Frankly, his schedule doesn't permit him doing anything between now and Election Day," according to CNN. As the news network points out, Pensacola is 25 miles from the AL border.