In what's beginning to feel like a depressing weekly ritual, there's news that another Tesla has crashed with the driver blaming the car's Autopilot system. This time it happened in Montana, with the car reportedly hitting a wooden guardrail on the side of a two-lane highway.
The Detroit Free Press reports the crash took place early on Sunday morning outside of Whitehall, Montana. There was a driver and a passenger; neither were injured.
The news was first reported by a friend of the driver, a poster going by the username Eresan on the Tesla Motors Club forum, an unofficial message board for Tesla drivers and enthusiasts. Eresan made a thread about the crash on Sunday, saying it happened at 2 a.m., and included several photos that the driver had sent via WeChat.
G/O Media may get a commission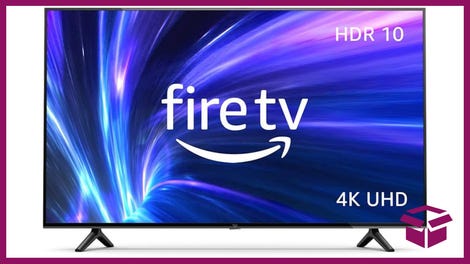 42% Off
Amazon Fire TV 50" 4K Smart TV
"Autopilot did not detect a wood stake on the road, hit more than 20 wood stakes, tire on front passenger side and lights flyed away," wrote Eresan. "The speed limit is 55, he was driving 60 on autopilot. His car is completely destroyed."
Other posters were skeptical about whether autopilot was to blame, but the photos definitely show a totaled Tesla:
Reached for comment, Eresan referred me to his friend, the driver of the car, who did not immediately return my call. A spokesperson for Tesla said the company is looking into the incident.
This is the third high-profile crash in the news involving Tesla vehicles with Autopilot, a beta technology that independently steers a car that was released late last year. In May, Joshua Brown, 40, died in Florida after the Autopilot on his Model S malfunctioned and failed to recognize a tractor trailer crossing the highway. And at the beginning of July, Michigan art dealer Albert Scaglione crashed his Model X SUV in Pennsylvania; he says Autopilot was active. The National Highway Traffic Safety Administration (NHTSA) is investigating both Brown's death and Scaglione's crash.
It's been a rough day for Tesla, as The Wall Street Journal reports that the Securities and Exchange Commission is investigating whether the company should've disclosed Brown's death to investors. The Journal's report says that, according to its source, the SEC's investigation "is in a very early stage and may not lead to any enforcement action by regulators." Fortune magazine had reported last week that the crash might've been material to the company's value, a claim to which Tesla vigorously objected.
If nothing else, yet another accident again raises the question of whether this beta technology should be tested by non-experts on open roads.
Ethan Chiel is a reporter for Fusion, writing mostly about the internet and technology. You can (and should) email him at ethan.chiel@fusion.net