According police, nine people were arrested Saturday when neo-Nazis and their opponents clashed at white supremacist rallies at Stone Mountain in Georgia.
All total, counter-demonstrators outnumbered the white power protesters 10 to 1.
The people arrested were counter-demonstrators during rallies organized by several white supremacist groups, said Stone Mountain Park Police spokesman. One counter-protester was charged with aggregated assault after throwing a smoke bomb at police, officer John Bankhead said.
At least three different white supremacist groups claimed to be holding rallies at Stone Mountain Park near Atlanta, which has several monuments to Confederate heroes Jefferson Davis, Robert E. Lee and Stonewall Jackson. The park is also considered the birthplace of the Ku Klux Klan. Saturday's rallies were held to coincide with this weekend's "Confederate Memorial Day" celebration as well as Adolf Hitler's birthday.
A protest called "Rock Stone Mountain," organized by John Michael Estes and Greg Calhoun, had obtained a permit for Saturday's rally. There were only 25-30 protesters there, far fewer participants than the 2,000 expected, the Journal-Constitution reported. Several members wrote on the event's Facebook page that they had been barred from entry.
G/O Media may get a commission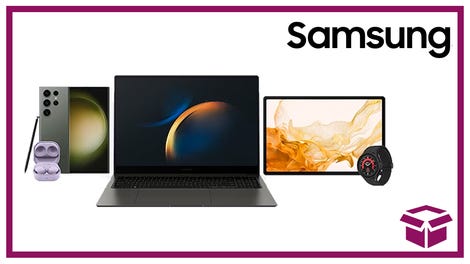 24 hour deals
Discover Samsung - Daily Deal
Several other organizations held dueling demonstrations to support Confederate heritage but opposing racism. The integrated biker group Bastards MC, the hacking collectivist Anonymous and other local militia had these motives, the Journal-Constitution reported.
The white power groups were vastly outnumbered by anti-KKK protesters from All Out Atlanta, Black Lives Matter and more. All Out Atlanta claimed in a blog post that 2,000 people had attended the counter-demonstrations, but Bankhead put the number at far fewer, around an estimated 250 counter-protesters.
The clashes between the two groups led to rocks being thrown, trash burned and fireworks tossed at police. The amusement park section closed down for the evening, and the planned laser show was canceled.
"This just wasn't the place [for protests]," Bankhead said. "This is a family-orientated park."
According to the Journal-Constitution, police surrounded the "Rock Stone Mountain" rally, causing the counter-protesters to declare victory.
In Rome, Georgia, about 85 miles away, about 80 National Socialist supporters marched wearing black military garb and swastikas, but they were also outnumbered by counter-protests. Two counter-demonstrations were arrested in Rome, according to the Journal-Constitution.