For the second time in five months, employees of the Chicago Tribune have been hit with layoffs. The latest round comes just a month after the media conglomerate which owns it, tronc (sic), sold off the Los Angeles Times for half a billion dollars. The number of employees who were laid off is not known.

The Tribune layoffs follow reports yesterday that the Denver Post had slashed its newsroom staff by a third. Chicago Tribune editor and publisher Bruce Dold buried news of the layoffs in a (long) memo to staff this afternoon, which was obtained via a current Tribune employee:
Colleagues,

Over the last two weeks our newsroom leaders have held conversations with you about the reorganization of the Chicago Tribune. These exchanges have been tremendously helpful as we prepare for our future. You've shared ideas on what our coverage priorities should be and how we can draw more readers. You've offered excellent suggestions on who would be strong candidates to hire and promote as we become a truly digital-focused and more diverse organization.

We're going to keep these conversations going.

We know this has been a challenging time. In the coming days we will work with you to determine your assignments and responsibilities so you know exactly what your role will be.

In our commitment to provide competitive compensation for newsroom employees, we are completing a salary review. Compensation changes for staffers not governed by collective bargaining agreements will go into effect on April 1.

We will hold a Town Hall meeting at 1 p.m. on Monday, March 26, in Campbell Hall to introduce the coming redesign of the Chicago Tribune website. At that meeting we will detail and demonstrate our new content management system, Arc, the replacement for P2P we have licensed from The Washington Post. We will lay out the development and training timelines for implementation of Arc. There will be time at the end of the Town Hall to take your questions.

Last week, I visited the build-out of our new home at Prudential Plaza. It will reflect the Chicago Tribune's 170-year success story and enhance our transition to a digital workplace. This week, the company shared more details on parking and mass transit options and building amenities. A sample workstation has been set up on the third floor of the Tower to give you a better sense of the new work environment. We are on track to move in late May.

Today, we took the most difficult step in this transformation. We notified a number of employees that their positions are being eliminated.

I know the impact this has on everyone in our organization. That impact is by far most profound on those who are directly affected. I want to thank them for the work they've done for the Tribune.

A lot has happened with our organization and structure in just the last two weeks.

Here's what else happened in that time: We published an impactful investigative report on the secret offshore holdings of a major candidate for governor; we broke news about a significant retail development along the Chicago River; we wrote with heart about Loyola University's NCAA-qualifying basketball team; we gave our readers details they couldn't get elsewhere about the expansion of O'Hare International Airport.

We won Top 10 Awards from the Associated Press Sports Editors for Daily Section, SundaySection and Special Section. We were presented with the Philip Meyer Award for the best journalism done using social research methods.

Those are just some highlights. We provided much, much more for our readers.

Thank you for your ideas. Thank you for your commitment.

Sincerely,

Bruce Dold
Tribune employees tweeted as the layoffs were happening:
G/O Media may get a commission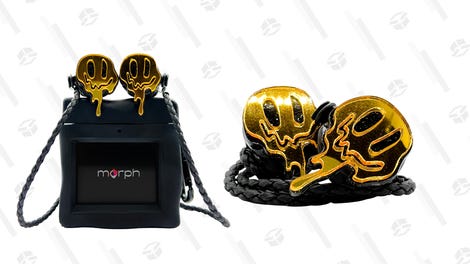 morph audio
Morph Earphones
Chicago media journalist Robert Feder reported that tronc declined to confirm the number of layoffs, and also that this round of cuts may spur unionization efforts at the paper, which until now have been in their earliest stages:

Thursday's layoffs and the uncertainty surrounding them may help fortify an effort to unionize Tribune editorial employees. Last week a group of staffers met with representatives of the Chicago News Guild, longtime bargaining agent for the Sun-Times and numerous suburban papers. The meeting was described as preliminary to a full-scale organizing effort.
I guess that's one side effect of wasting a ton of money on bullshit and then firing the poorly-paid people who actually create your product.
Apart from the Chicago Tribune, tronc owns several top dailies around the country, including the New York Daily News, the Baltimore Sun, and the Orlando Sentinel.
SEC filings from December showed that the Tribune's parent company had signed a contract with the the consulting firm of its own chairman, Michael Ferro, to pay it $15 million over three years. And in January, prior to the staff of the Los Angeles Times overwhelmingly voting for a union, LA Times staffers published a proposal for an enormous, pricy new workspace that would make the offices of Los Angeles' top daily look less like a newsroom and more like a nightclub.
Even with all of that money, tronc apparently didn't think it was worth the trouble to work with the Times union, which follows a pattern in the company's thinking; last year, the Baltimore Sun shut down the alternative weekly Baltimore City Paper after the paper's staff voted to unionize.
Considering how loose tronc's spending is at the top — and especially considering the influx of cash tronc has gotten from the LA Times sale — one has to wonder how it's possible that they couldn't have found the funds to keep good local journalists employed at the biggest daily in the third-largest city in the country. Weird how that works!

Update, 10:46 PM ET: "The Chicago Tribune is reshaping its newsroom and making important steps in an ongoing effort to become more a digital enterprise," Tronc VP of communications and public relations Marisa Kollias emailed Splinter in a statement on the layoffs. "Excellence in journalism remains our top priority. The newsroom is redefining jobs and structure so that people are in the best position to create and deliver news content for the rapidly changing demands of our audience."