There are few state-level politicians currently in office who have done more damage than Kansas secretary of state Kris Kobach. Apart from being the architect of Arizona's xenophobic racial profiling law SB 1070, Kobach has been at the forefront of the war on voting rights, helping to rapidly expand the highly inaccurate Crosscheck program and serving as the vice chairman of President Donald Trump's voter fraud committee before it disbanded.

But in trying to stop all of that nonexistent voter fraud, Kobach flew a little bit too close to the sun. Today, U.S. District Court Judge Julie Robinson found Kobach in contempt of court, saying Kobach didn't comply with a 2016 order which temporarily blocked a Kansas law requiring proof-of-citizenship from people signing up to register to vote pending the outcome of the full trial.
According to HuffPost, that decision affected 18,000 people who tried to sign up but didn't have the proof of citizenship; Robinson told Kobach to send postcards out informing them of the decision and Kobach didn't, so the ACLU filed a motion to find Kobach in contempt. And Robinson did.
"Kansans have come to expect these postcards to confirm their registration status, and Defendant ensured the Court on the record that they had been sent prior to the 2016 general election," Robinson said in her 25-page ruling issued today. "They were not, and the fact that he sent a different notice to those voters does not wholly remove the contempt, nor does his attempt to resend postcards eighteen months after the election and five months after Plaintiffs notified him of the issue."
According to HuffPost, a Kobach staffer had recently filed an affadavit that his office had fulfilled its duty by orally instructing county boards of elections to send out the postcards, but Robinson didn't buy it, and said she was "troubled by [Kobach's] failure to take responsibility for violating this Court's order."
G/O Media may get a commission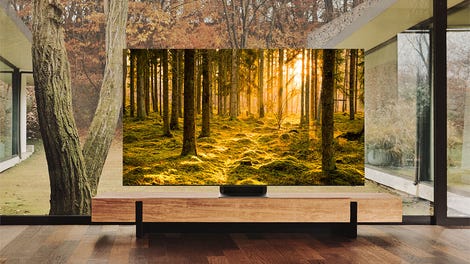 Up to 40% off
Samsung Smart TVs
Robinson ordered Kobach to pay the ACLU's legal fees. "Although the Court my not need to coerce compliance with its unambigious preliminary injunction order," she wrote, "[Kobach]'s history of noncompliance and disrespect for the Court's decisions in this case as set forth above signals that specific, verifiable directives will be necessary if a permanent injunction is warranted by the Court's ultimate decision in this case."
"Secretary Kobach likes to talk about the rule of law," ACLU voting rights lawyer Dale Ho said in a statement. "Talk is cheap, and his actions speak louder than his words." (We requested a comment from Kobach's office and will update if we get a response.)
Kobach, meanwhile, is currently running for governor of Kansas and very well might win. So, there's that.