For centuries, scholars and theologians have debated the meaning of the New Testament's cryptic predictions about the end of the world, including many in the Book of Revelation. Today, we can stop arguing, for it is pretty clear that the Bible was referring to Donald Trump's 2016 presidential campaign all along.
Here are some verses from the Book of Revelation (King James Version) and other books that almost certainly predict, hint at, or prophesy Donald Trump's rise to prominence.
Theologians: you're welcome. Everyone else: prepare for the coming armageddon!

I was in the Spirit on the Lord's day, and heard behind me a great voice, as of a trumpet (Rev 1:10):
G/O Media may get a commission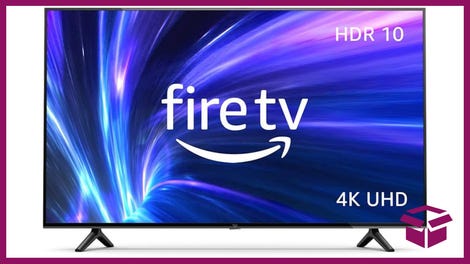 42% Off
Amazon Fire TV 50" 4K Smart TV
And I turned to see the voice that spake with me (Rev 1:12):
And being turned, I saw seven golden candlesticks (Rev 1:12):
And in the midst of the seven candlesticks…(Rev 1:13):
I saw a beast rising up out of the sea, having seven heads and ten horns (Rev 13:1):
His head and his hairs were white like wool, as white as snow; and his eyes were as a flame of fire (Rev 1:14):
And his countenance was as the sun shineth in his strength (Rev 1:16):
And he had a name written, that no man knew, but he himself (Rev 19:12):
And he said unto me, It is done… I will give unto him that is athirst of the fountain of the water of life freely (Rev 22:17).
And he opened his mouth in blasphemy against God, to blaspheme his name, and his tabernacle, and them that dwell in heaven (Rev 13:6) . 
And he cried mightily with a strong voice, saying, Babylon the great is fallen, is fallen, and is become the habitation of devils (Rev 18:2):
And the hold of every foul spirit, and a cage of every unclean and hateful bird (Rev 18:2):
And he had a wall great and high…And the building of the wall of it was of jasper…And the foundations of the wall of the city were garnished with all manner of precious stones. (Rev 21:12)
And he that talked with me had a golden reed to measure the city, and the gates thereof, and the wall thereof. And he measured the wall thereof (Rev 21:17):
And one of the elders answered, saying… "What are these which are arrayed in white robes? and whence came they?" And I said to him, "Sir, you know." (Rev 7:13)
And his servants shall serve him; And they shall see his face; and his name shall be in their foreheads.
He will invade the kingdom when its people feel secure…(Dan 11:21)
And he will seize it through intrigue. (Dan 11:21)
We had a good run, everybody! See you on Judgment Day!