On Sunday, Apple CEO Tim Cook put on his activist hat and penned an editorial denouncing discriminatory laws and practices in America. The op-ed was written in response to the passing of Indiana's Religious Freedom Restoration Act, which many believe will allow people to use religion as a way to discriminate against gay individuals. "This isn't a political issue. It isn't a religious issue. This is about how we treat each other as human beings," Cook wrote in the Washington Post.
Cook, who also aired his views via Twitter, wasn't the only one speaking out about the bill which was signed by Indiana's Governor Mike Pence on Friday. According to Eater.com, Chris Arnold, the head of PR for Chipotle said, "I suppose Indiana can do [what] it wants, but we will continue to welcome our customers — all of them." And Yelp CEO Jeremy Stoppelman left an open letter denouncing the decision on the company's official blog. Marc Benioff, CEO of Salesforce also canceled all work related travel to the state of Indiana for his customers and employees. Actor and tech investor Ashton Kutcher also had a few things to say about the matter:
The tech industry was vocal about its disapproval, and so was D.C. Josh Earnest, spokesperson for the White House said, "The signing of this bill doesn't seem like it's a step in the direction of equality and justice and liberty for all Americans."
Indiana was the only state mentioned by name by Cook in his op-ed, but it wasn't his only target; other states have similar laws in the works. Cook says that while faith is important to him — he was baptized as a child in a Baptist church — governments should not promote discrimination on the basis of religious beliefs. "On behalf of Apple, I'm standing up to oppose this new wave of legislation — wherever it emerges," he wrote, urging other business leaders to take a similar stance. He believes legislation that could promote discriminatory behavior is not only bad for business, but bad for the future of America, undoing years of progress.
G/O Media may get a commission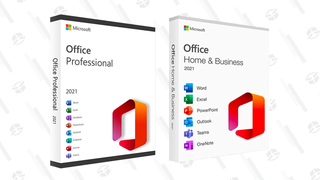 89% off
Microsoft Office Professional 2021 Lifetime License
"Wherever it emerges" is a broad claim. One Washington Post commenter encouraged Cook to take his stance overseas: "Hey Tim, by the way, can you send this same letter addressed to the Communist Party of China? They are so anti-gay marriage, but since Apple's fortune depends on China….hush hush."
In the fall, Cook told BusinessWeek that he's proud to be gay.  Rather than writing about any discrimination he's encountered due to his sexual orientation, Cook, a native of Mobile, Alabama, said growing up in the South provided his understanding of what's at stake. "[Discrimination] doesn't always stare you in the face. It moves in the shadows. And sometimes it shrouds itself within the very laws meant to protect us." Cook wrote. "The days of segregation and discrimination marked by 'Whites Only' signs on shop doors, water fountains and restrooms must remain deep in our past."
Let's hope there's never a "Straights Only" tag on job postings.
"I write about the future (Associate Producer at @ThisIsFusion).
I write about the past (publisher of #OGToldMe).
Oakland, CA raised me."