Seventy-two-year-old Peggy Bush wanted to download a game to the iPad she shared with her husband before he died in August. When she couldn't remember the associated Apple ID password, she reached out to Apple.
Bush expected the password recovery process to be relatively straightforward. "I could get the pensions, I could get benefits, I could get all kinds of things from the federal government and the other government," she told CBC News. But Apple put her through the ringer. "From Apple, I couldn't even get a silly password. It's nonsense."
Bush says that she knew the iPad's passcode, but ran into trouble when she tried to re-download a game. "I didn't realize he had a specific password I should have known about…it just never crossed my mind," she said. CBC News explains what happened next:

After many phone calls and two months of what she describes as the "runaround," [Peggy's daughter] Donna provided Apple with the serial numbers for the items, her father's will that left everything to his wife, Peggy, and a notarized death certificate — but was told it wasn't enough. "I finally got someone who said, 'You need a court order,'" she said. "I was just completely flummoxed."
G/O Media may get a commission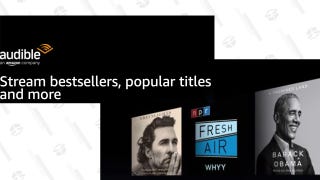 FREE
Audible Premium Plus 3-Month Free Trial
Ars Technica points out that the fine print in Apple's iCloud terms and conditions stipulates that accounts can't be transferred over after the account holder dies. The "No Right of Survivorship" clause reads:

Unless otherwise required by law, You agree that your Account is non-transferable and that any rights to your Apple ID or Content within your Account terminate upon your death. Upon receipt of a copy of a death certificate your Account may be terminated and all Content within your Account deleted.
Apple does, however, consider each case individually. And because iCloud accounts can sometimes contain much more personal  information (say, nude photos) than what can be viewed through the device, it's trickier to get access to an iCloud account than the password to an iPad, or a laptop.
The Bush family, however, had been able to handle more substantial legal tasks—like transferring ownership of the couple's house and car to Peggy's name—with relative ease.
And this is not the first time that Apple has come under fire for handling post-mortem password recovery callously. In 2014, Irish Independent reported that the sons of a woman, Anthea Grant, who had died of cancer, were treated similarly when they tried to recover their late mom's password:

The brothers attempted to restore the factory settings on the device, but were told by Apple that they would need "written permission from Mum". After they re-iterated to the US tech giant that their mother was dead, Apple asked for a copy of her death certificate, will and a letter from their solicitor. Then Apple made even more demands, asking the family to provide a court order to unlock their mother's tablet, invoking the Electronic Communications Privacy Act.
In a blog post, one of the sons wrote harshly of the company. "Their utter lack of understanding and discretion in a time of great personal sadness has been astonishing. For a company that sells itself on the idea we are all part of one big Apple family, they have been very cold," Josh Grant wrote. And it appears that American users have also run into this problem with Apple's terms of services, based on the questions in this Apple support community thread.
Eventually, Donna reached out to Tim Cook directly, and spoke to CBC News about the situation. After that, Apple reached out to the Bush family and offered to allow her access to the account without a court order. Apple did not comment on its policy.
Danielle Wiener-Bronner is a news reporter.