Loren Kramar doesn't have a Spotify account, a Tidal account, or any songs on iTunes. An unverified Twitter account bearing his name had only 200 followers as of this afternoon. But the little-known musician just got a huge shout out from Apple.
Apple announced at its annual developer conference on Monday afternoon that it would be diving head first into the music streaming game by launching a product called Apple Music. The service has been rumored for more than a year since Apple purchased Beats By Dre and brought both Dr. Dre and Jimmy Iovine into the Apple fold. But at the event today, Apple finally announced the slew of new features that product would include—  the ability to stream music on-demand, curated playlists, and Apple's own Internet radio station.
In addition, Apple also introduced a product called Apple Connect that will allow artists to upload all of their media (Instagrams, new videos, song previews, etc.) in one spot and share exclusives with their fans. Drake came on stage and introduced this feature to the audience, but instead of playing a song from his rumored upcoming album, Apple played a clip of a song by Loren Kramar.
Kramar, or at least a Twitter account bearing his name, was over the moon:
https://twitter.com/thelorenkramar/status/607997842964103169
But the rest of us were asking: who the hell is Loren Kramar?
G/O Media may get a commission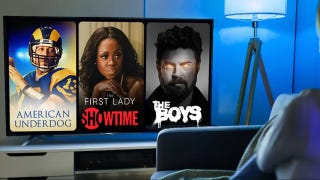 UNDER $1
99¢ Prime Video Channels
Given that Apple's previous product release events featured mega-artists like U2, Coldplay, and Norah Jones, you'd expect him to have a following, or at least a social media presence. But Kramar doesn't show up on the leading streaming services, and he doesn't appear to have any published musical work. (Although he does have an affiliation with ASCAP, a group that represents songwriters.) Here's what happens when you search for him on iTunes:
Most up-and-coming artists know that to make it in the industry, their names have to be known. They have Twitter, Facebook, and Vine accounts. They post photos to Instagram. They keep a Soundcloud account where they upload new music, or they post videos of themselves performing on YouTube. Their paths to fame (or lack thereof) are easily traceable.
But Kramar, whom Apple chose to highlight at one of its biggest tech announcements of the year, doesn't seem to exist anywhere. He doesn't even have a finished song. (The song Apple played during the announcement was a clip of a song that's not done yet.)
The only real clues to Kramar's existence come from a February 2012 profile in Capital New York, in which Kramar is described as an "in-demand new eccentric." The profile's occasion was the launch of an online magazine called Megazine. Capital New York wrote:

Despite his lack of credentials, Kramar has become something of a darling of the New York City art world. This is due in part to his sprawling network of friends that includes such art scene Zeligs as Lola and Stella Schnabel and the members of the Bruce High Quality Foundation, the Brooklyn art collective "created to foster an alternative to everything" that has bewitched many over the last dozen or so years, including the Times critic Roberta Smith.
In a 2012 Time Out article, Kramar is quoted saying, ""One of the things I love to sing is 'Hit the Road, Jack' and songs by La Bouche. Those are really fun. Oh, and one of my favorites is 'Superstar' by the Carpenters. I'd sing it for you, but you're going to have to come see it."
Kramar's art-world past seems to point to a theory that while Kramar has been performing music, he hasn't been recording it or publishing it in any consumable format. That makes him an even weirder choice for Apple Connect, a service that is essentially a promotion tool for artists.
Almost immediately, Complex called Kramar an "industry plant" on Twitter — implying that he isn't a real artist at all, but a decoy used by a record label or music platform that has been tested by a focus-group and used as a kind of launch-day stand-in. Kramar (or the Twitter account purporting to be him) retweeted Complex's tweet, which lends more mystery yet to the saga.
We still don't know who Kramar is, or what he was doing at Apple's big event. But he's clearly going to benefit from such mainstream exposure. An hour after the Apple announcement, Joe Weinberger — the recruiter who discovered Kanye West, Daddy Yankee, Soulja Boy, and launched the record label 3HHH under Interscope Records — tweeted his congratulations to Kramar. He may not remain an unsigned artist for long.
Kelsey McKinney is a culture staff writer for Fusion.