The issues that matter most to young voters are the economy, debt, national security and education, according to a Fusion poll released last Thursday.
But have politicians gotten the message? With midterm elections approaching this November, Fusion analyzed debates in five key Senate races to see whether the candidates were addressing the issues that matter to millennials.
Fusion looked at debates in Colorado, Iowa, Kansas, Kentucky and North Carolina to see what words and phrases politicians used most frequently—and whether they're addressing issues that matter to young voters.
The economy is the biggest concern among registered voters ages 18 to 34; the Fusion poll shows that 28 percent say it's the most important issue in the United States today. Rounding out the list of top concerns are: debt and spending (16 percent); terrorism and national security (15 percent); education (14 percent); and healthcare (10 percent).
G/O Media may get a commission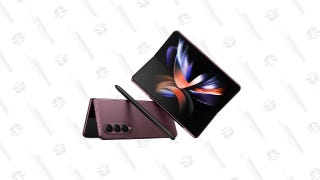 Save Up to $300
Galaxy Z Fold4
One caveat: most state races focus on local concerns, which don't always overlap neatly with issues in national polls.
Still, the candidates touched on many of the key topics, either directly or tangentially. But what they ignored might surprise you. Education, for example, was hardly mentioned. Neither was student debt.
In the graphics below, we highlighted terms related to issues that millennials ranked as most important (10 percent or more on our chart). The word clouds (composed with Wordle) display words larger if they're mentioned more frequently. Here's what we found:

Colorado
Sen. Mark Udall (D) and U.S. Rep. Cory Gardner (R)
September 6 in Grand Junction
Healthcare and the economy were central issues in this debate between Udall and Gardner, with the Republican challenger focusing on the economic benefits of tax cuts. Neither candidate devoted much time to education or terrorism, core concerns for millennials.
Iowa
Rep. Bruce Braley (D) and State Sen. Joni Ernst (R)
September 28 at Simpson College
Taxes, the farm industry and a minimum-wage hike were the main issues debated Sept. 28 between Braley and Ernst. Braley slammed his Republican competitor for opposing a higher minimum wage; conversely, Ernst sought to portray herself as being in touch with low-wage workers. She stressed that she "grew up working minimum wage jobs," but that such a wage should be set by the state, not the federal government.
Kansas
Sen. Pat Roberts (R) and businessman Greg Orman (I)
September 6 at the Kansas State Fair in Hutchinson
While Roberts and Orman sparred over healthcare, farming and terrorism, they spend scant time discussing education or student debt. Roberts sought to position himself as a veteran senator with the know-how to provide for the state's agricultural needs. Orman portrayed himself as a business-friendly alternative without ties to conservative oligarchs like the Koch brothers.
Kentucky
Sen. Mitch McConnell (R) and Kentucky Secretary of State Alison Lundergan Grimes (D)
August 2 at the Annual Fancy Farm Picnic in Graves County
McConnell, the Republican leader in the Senate, tarred Grimes as an Obama ally who should be held accountable for his failings. Grimes drilled down on economic issues, including the cost of college. "When it comes to our students being able to afford college, Mitch McConnell, well, he doesn't care."
North Carolina
Sen. Kay Hagan (D) and State Rep. Thom Tillis (R)
September 3 at the University of North Carolina
Unlike the other debates we examined, education was a central theme in the contest in North Carolina. Tillis, the Republican challenger, lamented "Washington bureaucrats who on average make $102,000 a year — 5,000 of them —telling teachers how to teach in schools." Hagan bragged about pay raises for teachers during her time in Congress.
Graphics by Gabriella Penuela and Wordle. Additional reporting by Nicole Toczauer.
Jordan Fabian is Fusion's politics editor, writing about campaigns, Congress, immigration, and more. When he's not working, you can find him at the ice rink or at home with his wife, Melissa.
Ted Hesson was formerly the immigration editor at Fusion, covering the issue from Washington, D.C. He also writes about drug laws and (occasionally) baseball. On the side: guitars, urban biking, and fiction.