As I write this, it's 72 and sunny in where I live in North Carolina. In the Twin Cities (where I grew up and my family still lives) there's anywhere from six to 10 inches of snow on the ground.

The yawning meteorological discrepancy between these two places reminded me of last month's assertion by Washington, D.C. City Councilman Trayon White Sr., that Earth's increasingly volatile weather is "a model based off the Rothschilds controlling the climate to create natural disasters they can pay for to own the cities."
White has since apologized for the comments, which transparently played on the centuries-old use of "Rothschilds" as a stand-in for "Jews." Still, as a Jew, I couldn't help but wonder: Are my co-religionists actually colluding to control the weather? If so, why are they so astonishingly bad at it? And most important of all: Where the hell is my invitation to this global cabal?
After all, I'm highly qualified. I grew up in a relatively religious Jewish household—I kept kosher(ish), went to synagogue most weeks, had a bar mitzvah, and attended Jewish day school for much of my childhood. I went on to earn a degree in—yes—Jewish studies. (It presented the path of least educational resistance, and gave me plenty of time to focus on important things, like trying unsuccessfully to get laid.)

G/O Media may get a commission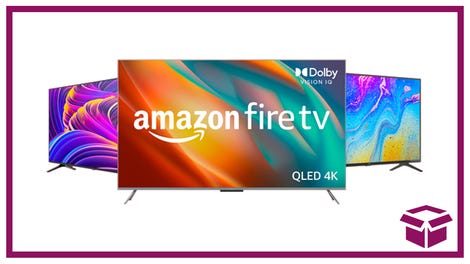 Ooh. stunning.
New Amazon Fire TVs
I rattle off these otherwise uninteresting bona fides to make the point that never in my 33 super-Jewy years on this Earth have I ever been asked to create hurricanes or blizzards or storms of any sort. Not to "own the cities," as White claimed, or even to give myself and my friends a middle school snow day which, in Minnesota, happens a lot less frequently than you might think.
In fact, the sole Jew I know who might be a climate wizard is my pal Eli Valley, who once was blamed by an Orthodox rabbi for causing a devastating earthquake in Haiti because he drew some funny cartoons (I asked Eli for this blog whether he did, in fact, control the weather. He answered "I do Rafi!!!! You just need to trash talk idolaters!!!!" I'm pretty sure he's joking).
Now, in White's defense, perhaps he was referring to the 2011 purchase of Weather Central, LP—a meteorological graphics company bought by E.L. Rothschild LLC, which is owned by Chairman Sir Evelyn de Rothschild and CEO Lynn Forester de Rothschild. But they don't control the weather so much as make pretty pictures of it.
So, I guess what I'm saying is this: I really don't think a global network of Jews are out there colluding to control the weather. But if they are, and are reading this: Hello. Share with me your secrets. I want to grill this weekend, and it's supposed to rain.