SAN DIEGO, CA – Even on a dual income, young couple Blair, 26, and Erick, 27, Escobar always needed roommates to help pay the rent. But after a string of unsuccessful living arrangements that included roommates who were messy, inconsiderate and who sold drugs behind their backs, they just couldn't hack it any longer.
So like many other millennials, they moved into a room at Blair's mother's home to save money. What they hoped would be short-term, morphed into three years.
But now, it's looking like the wait may have been worth it. Three weeks ago, the Escobars reserved a spot in one of the city's first 'micro-housing' communities—a newly constructed neighborhood of 50 tiny houses, each 300-square-feet or less, designed for residents who are looking for homes that are inexpensive and easy to maintain.
Tiny homes are just big enough to fit the essentials: a bed, kitchen, closet space, and a bathroom. They have the feel of a studio apartment, with one twist: they're mobile. Without a traditional foundation, tiny homes can literally be picked up and taken with you anywhere.
The Escobars aren't the only young people buying these houses. There are already scores of micro-housing communities in the nation in cities like Washington, D.C. and Portland, Ore.
G/O Media may get a commission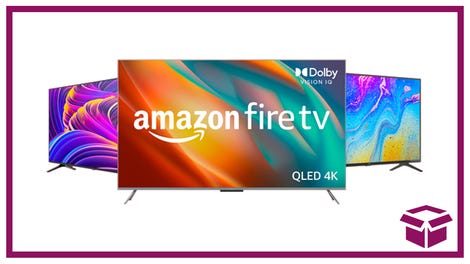 Ooh. stunning.
New Amazon Fire TVs
One-third of the clientele for the tiny house community in San Diego is under the age of 35, according to Janet Ashforth, owner of Habitats Tiny Homes, the company spearheading the effort.
"San Diego housing and rent prices are continuing to skyrocket and tiny homes are a more affordable type of housing," Ashforth said. "There is a sense of freedom for having less stuff to maintain and I want to change the perception that personal happiness and success is directly related to how big your house is. I think millennials understand that."
With student debt at an all-time high, fewer jobs and lower salaries, millennials just aren't buying homes at the same rate as previous generations. And it doesn't help that in California, home prices have soared to an average of about $437,000. That price is almost 10 times the price of the tiny home that the Escobars hope to purchase at $45,000.
And on top of that, there just aren't enough homes to supply the demand. The number of starter homes on the market has decreased about 44% in just the last four years.
"I'm tired of paying rent money for nothing," said Blair who works part-time as a service agent at a car rental company. "We want to become homeowners because we want stability and the feeling that our place and belongings are secure. I'm sure there will be children one day and it couldn't hurt to have a home."
San Diego has the sixth-lowest percent of millennial homebuyers in the nation, but the fourth-highest mortgages for borrowers under 35.
In the Escobars' case, owning a tiny home actually made more financial sense than renting: the average rent for a one-bedroom apartment in San Diego is $1,552 per month, while the couple won't be paying more than $750 a month to live in their tiny home community.
Research has also shown that millennials gravitate to places that offer urban amenities and reduce the need for a personal vehicle—both of which tiny home communities can offer.
The master plan for the Escobars' community features an urban farm, community center, coffee shop, and even a yoga studio, all on an easily walkable 5-acre plot.
"I want less space so I buy less things and I am a people person so I want to live in a place where I can interact with my neighbors and build community," said Ingrid Fox, 29, who will be a future neighbor to the Escobars in their tiny home community.
The design of the community mimics the look and feel of an urban downtown area, which captures the interests of many millennials.
Flexibility is another potential plus: tiny houses can be built on wheels and moved down the street, usually without a permit. With young adults increasingly moving from city to city, getting tied down to a 30-year mortgage on a traditional home may not appeal to a modern, mobile lifestyle.
In fact, the Escobars plan to move out of San Diego in the future and when they do, they'll be able to take their tiny home with them.
So are tiny homes the answer to millennial home ownership? That has yet to be proven.
One thing we can say is that tiny homes are filling a void in a housing market that hasn't been kind to young people, or the poor.
"I don't see a lot of builders targeting millennials unless they are upscale, luxury apartment dwellers," said Los Angeles housing economist Gerd-Ulf Krueger. "In California, you are locked out of the housing market unless you are lucky to get a job and have a pretty good income. Any kind of new and revolutionary design of the community and the house has the potential to be a constructive innovation akin to what Steve Jobs did with computers."
Kristian Castro is a San Diego native who grew up in a predominantly working class neighborhood. His family of immigrants uprooted themselves from the Philippines and planted the seeds of a new life here in the states hoping for better opportunities. One of the first in his family to graduate from college, Kristian's experiences in student leadership at UC San Diego cultivated his passions for social justice and community development. After college he served in AmeriCorps, where he developed a volunteer program for a media nonprofit and supported workforce efforts in southeast San Diego. He currently works with the San Diego Urban League on housing and financial literacy projects and is taking urban planning classes through San Jose State University's Open University program. As a fellow, he is eager to spotlight narratives that convey how city infrastructure, transportation access and urban design play a major role in impacting community health. Kristian is privileged to be part of the fellowship where he can help amplify the stories of the communities he grew up in.