The sultry guitar line. The effortless vocal leaps from chest to head and back again. The undeniably R&B sound. There are many things worth noting about Ariana Grande's new single, "Dangerous Woman," but most notable of all might be the grammar in the first verse.*
From the pronouns ("Start what I finished," "I'm locked and loaded") to the possessive adjectives ("my decision," "my limits," "my business," "my witness," "my mind"), this verse is all about Ariana. Even when the "boy" and his second-person pronouns finally arrive in the pre-chorus, his presence remains satellite to the singer's experience. There's a mutual gravitational pull—but let's not forget who orbits whom.
"Dangerous Woman" is the title track off of Ariana Grande's upcoming third album, out May 20. Both the single and the album pre-order hit iTunes on March 11.
With its emphasis on the singer's agency and its sensual, unapologetically slow build, the song—written by Johan Carlsson and Ross Goldan and produced by Carlsson and Max Martin—feels markedly more mature than Ariana's past efforts. As much as I like Yours Truly and My Everything, neither album made much of a cohesive statement upon their release. Yes, the singles were catchy. And yes, the vocals were as sweet and weightless as they were deft and targeted, like a half-dozen Strawberry Shortcake Mylar balloons tied to the leg of a military-grade drone. But what did those songs tell us about Ariana Grande the person, not just Ariana Grande the potential? Perhaps Dangerous Woman will fill in those blanks.
It sure seems like the 22-year-old intends for this to be her coming-of-age album, at least if her On Air with Ryan Seacrest interview Friday morning is any indication:

[Dangerous Woman] is a little darker and sexier and more mature… I've come into my own a little bit [since my last album was released]… I was afraid to be myself and make decisions and speak out about things I'm passionate about because I thought that it would make me experience some of the stereotypes that women in power often face—like, you know, [being called a] "diva" and all this stuff
G/O Media may get a commission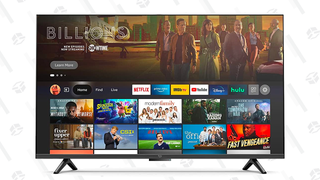 22% off
Amazon Fire TV - 50" Omni Series 4K - Early Access Deal
Grande—who will serve as host and musical guest on Saturday Night Live Saturday night—added that she's no longer afraid of being "a woman in charge" who "knows what she wants and gets it done." A "dangerous woman," she later clarified.
This new direction might also involve a pivot away from the hyper-girlhood aesthetic the "One Last Time" singer has cultivated since her debut. The Dangerous Woman album cover—the only visual we have for this era now that "Focus" appears to have been stricken from the record—seems to suggest as much.
In the photo, we see Ariana wearing a black latex rabbit-ear mask. It's part Playboy bunny, part dominatrix, and part Michelle Pfeiffer's Catwoman in Batman Returns. However you do the math, it's a far cry from the kawaii cat ears that once crowned her head.
* I swear I'm fun at parties I swear I'm fun at parties I swear I'm fun at parties I swear I'm fun at parties I swear I'm fun at parties I swear I'm fun at parties I swear I'm fun at parties I swear I'm fun at parties I swear I'm fun at parties I swear I'm fun at parties I swear I'm fun at parties I swear I'm fun at parties I swear I'm fun at parties
Bad at filling out bios seeks same.