Last week, a ProPublica investigation including a national review of hundreds of police records showed local law enforcement is closing reports of sexual abuse at immigrant children's shelters with little investigation. This week, one Arizona publication's records review found that a sheriff's office tasked with investigating cases of child abuse closed them after only reviewing security camera footage, further illustrating the pervasiveness of this nationwide problem.

According to the Arizona Mirror, the Maricopa County Sheriff's Office closed three cases of child abuse reported at the Hacienda Del Sol children's shelter ran by Southwest Key in Youngtown, Arizona, after only reviewing security camera footage and without interviewing the Southwest Key employees allegedly involved nor the minors reported to have been abused. A spokesman for the sheriff's office, which was previously ran by President Donald Trump-pardoned Joe Arpaio from 1993 to 2017, didn't respond to the Mirror's inquiry as to why it didn't conduct interviews in any of the cases.
The publication reported Wednesday that in two of the three incidents, which all occurred in September, the sheriff's office decided not to investigate further after reviewing security footage "because the deputies didn't observe any criminal acts." In these two cases, an employee allegedly "dragged a 7-year-old girl" to her bed by her leg, and in another incident, a different employee "grabbed a minor who was blocking the door of a classroom by the arm and pulled the minor away."
In the third case, a Maricopa County deputy reported that the footage showed a male employee, identified as Michael Royce, "pushing a boy, bear-hugging him from behind, kicking him in the leg and hitting his body." The boy involved in the incident also "hit Royce in the groin with a ball and spit at him."
Despite the review of abuse, Southwest Key staff didn't want the sheriff's office to interview the boy or the employee that reported the incident to shelter security. Shelter security also told the sheriff's office that it "did not want to press charges" and that the incident and disciplinary actions would be "handled by the facilities (sic) director,"  according to the deputy's report.
G/O Media may get a commission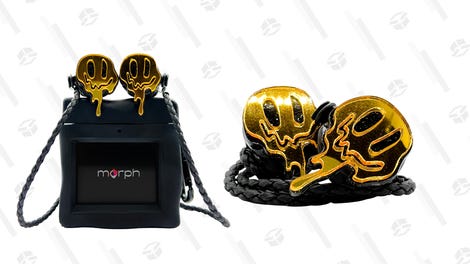 morph audio
Morph Earphones
However, the Mirror reports that employees of a company being investigated for potential child abuse shouldn't have been left to make the call whether to press charges:
The decision to press charges should be made by prosecutors, not employees of the company being investigated for potential child abuse, said Heidi Zoyhofski, an attorney for abused and neglected children who reviewed the reports at the Mirror's request.

She said children in government custody are especially vulnerable, and best practices in Arizona are to conduct a physical or medical exam and a forensic interview of the child, collect evidence such as photographs, and submit the case to a state prosecutor.

"In my mind, the state needs to be sure it goes above and beyond and that any claims are investigated to the fullest and in compliance with the law," Zoyhofski said.
Southwest Key spokesman Jeff Eller told the publication that the employee who was recorded kicking a boy's leg on security footage "did not act in line with our policies and procedures and was terminated." (We've reached out to Southwest Key asking if they're re-evaluating their policies in light of the allegations, and will update with any response we receive.)
Two of the incidents occurred on Sept. 14, while the third incident occurred on Sept. 21, according to the sheriff's office records. On Sept. 18, the U.S. Department of Health and Human Services, which oversees the placement of migrant children in shelters and with sponsors, stopped placing children in the Hacienda Del Sol facility before shutting down the facility 10 days later. In October, HHS said in a statement that the Southwest Key employees involved in the three incidents reviewed by the Mirror had been fired from the facility.
On Oct. 24, Southwest Key surrendered two of its 13 child shelter licenses in Arizona through a settlement with the Arizona Department of Health Services, one of those shelter licenses being Hacienda Del Sol, after failing to provide evidence of current and adequate background checks for employees.
This may be one facility ran by the nation's largest contractor of child shelters being held accountable, but seeing as even local law enforcement failed to fully investigate reported incidents of child abuse, this is only just the beginning.
Update, 1/2/19, 12:11 p.m. ET: On New Year's Eve, Southwest Key spokesman Jeff Eller sent Splinter a statement the organization had originally used in October when Hacienda Del Sol was initially shut down.
"We wholeheartedly welcomed the Office of Refugee Resettlement's decision to suspend operations at Hacienda Del Sol and are working to thoroughly retrain our staff," the statement read. "We are simultaneously engaging the Child Welfare Consulting Partnership to do an independent, top-to-bottom review of our processes, procedures, hiring and training in our Arizona shelters."