Arizona Gov. Jan Brewer announced she has vetoed a controversial bill that would have allowed businesses to deny service to LGBT people on the basis of religious faith.
"The bill is broadly worded and could result in unintended and negative consequences," Brewer said at a press conference Wednesday evening. "After weighing all the argument, I have vetoed SB 1062 moments ago."
Brewer has come under tremendous pressure from gay-rights organizations, business groups, and members of her own party to veto the bill. Critics said the bill would virtually legalize discrimination and would hurt the state's business climate.
Supporters of the measure have long maintained that it was simply designed to protect the religious beliefs of business owners. But Brewer said she has heard no instances of such violations in the course of reviewing the bill, which reached her desk Monday.
"SB 1062 does not address a specific or pressing concern related to religious liberty in Arizona," she said. "I've not heard one example in Arizona where a business owner's religious liberty has been violated.
G/O Media may get a commission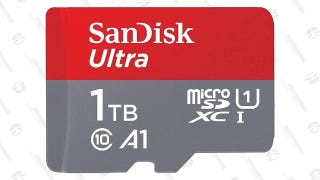 Save $75
SanDisk Ultra 1TB MicroSDXC Card
"Religious liberty is a core American and Arizona value, so is non-discrimination," she added.
Large businesses — such as Delta and Marriott — called for a veto saying that it could hurt the state's tourism industry. Arizona is slated to host the Super Bowl next year, and organizers feared that the NFL could move the game if the bill became law.
"Discrimination has no place in Arizona, or anywhere else," Alessandra Soler, executive director of the ACLU of Arizona, said in a statement. "We're grateful that the governor has stopped this disgraceful law from taking effect, and that Arizona will remain open for business to everyone."
Sen. John McCain (R-Ariz.) was among a group of Republican officials who urged Brewer to nix the legislation. On Monday, he applauded the governor's decision.
"I hope that we can now move on from this controversy and assure the American people that everyone is welcome to live, work and enjoy our beautiful State of Arizona," he said in a statement.
Arizona's other senator, Jeff Flake (R), shared McCain's reaction:
Jordan Fabian is Fusion's politics editor, writing about campaigns, Congress, immigration, and more. When he's not working, you can find him at the ice rink or at home with his wife, Melissa.