Nearly two dozen "White Lives Matter" protesters—some of them armed—staged a tense rally outside the Houston office of the NAACP on Sunday.
Protesters carried guns, Confederate flags and—in at least one instance—a sign with the white nationalist slogan "14 Words" written on it.
"We came here because the NAACP headquarters is here," protester Scott Lacy told Houston's KPRC, adding, "and that's one of the most racist groups in America."
Another demonstrator, Ken Reed told the Houston Chronicle that he was protesting what he called the NAACP's  "failure in speaking out against the atrocities that organizations like Black Lives Matter and other pro-black organizations have caused the attack and killing of white police officers, the burning down of cities and things of that nature."
NAACP president Cornell Brooks responded to the protest on Twitter, as did many others.
G/O Media may get a commission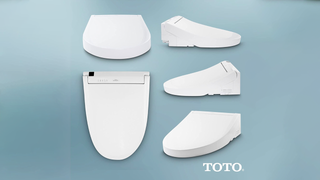 44% off
Toto Washlet Electronic Bidet Toilet Seat
According to KPRC, the protest began around noon, with police on horseback arriving to control the situation as crowds began to form. Speaking with the Chronicle, local resident Quintina Richardson pointed out the obvious dissonance between the protesters' message, and their imagery of choice.
"The Confederate flag throws me off," Richardson explained. "You're saying Black Lives Matter is a racist organization but when you're throwing the Confederate flag up and saying White Lives Matter, are you saying you're racist?"
Video posted on Twitter by Fox 26 anchor Jose Grinan shows Reed calling for the Black Lives Matter movement to be labeled as a domestic terrorist organization, as onlookers watch from behind police barricades.
A video posted to Instagram shows at least one protester standing next to Reed waving a Confederate flag while wearing a "White Lives Matter" t-shirt bearing what appears to be a white nationalist symbol on the back.
In another video posted to Instagram, Reed is also seen wearing the same shirt.
Crowds of both protesters and counter-protesters reportedly began dispersing from the NAACP headquarters by mid-Sunday afternoon. According to the Chronicle, the last people at the site—both black and white—subsequently moved to the parking lot of a nearby church, where they prayed together.
Update: On Monday afternoon, the NAACP released a statement on Sunday's protest:

"Yesterday, a small group of white supremacists, armed with automatic weapons and waving confederate battle flags, held a brief protest outside our office in Texas.

"While some may be shocked by what they witnessed yesterday in Houston, it is important to remember that the NAACP is subject to this type of harassment on a regular basis. The presidents of our more than 2,200 local chapters and branches often field angry and harassing phone calls, as well as vandalism, bomb threats and other calls for violence simply for standing up for the civil rights of all people. This hateful rhetoric has only increased during the current presidential election.

"Racism is a longstanding and divisive issue in this country, and many people at first feel victimized when confronted with the facts of how it continues to affect the lives of millions. But a misguided sense of victimhood does not justify brandishing weapons on a Sunday afternoon in a residential neighborhood, or make the statements of this group true or correct.

"We are encouraged that, in the face of flagrant hate and ignorance, the protestors in Houston were met by a larger crowd opposing their ignorance and dedicated to peace and prayer. Justice comes when communities refuse to let evil people perpetuate their misguided anger on innocent people.

"For more than a century, the NAACP has worked to unite people of every race, religion and background in the fight against segregation, discrimination, and violence. We continue to work nonviolently in every city and county to ensure that every person can advance through access to quality schools, economic opportunity, professional and accountable law enforcement, and the freedom to vote and be a part of our American democracy. We happily invite anyone who feels the same to join us."