ELIZABETH, NEW JERSEY—It took five officers to carry the woman to a nearby police van. Her body was passive and perfectly still, but she was using her dead weight to resist being moved. The officer holding her left leg, a big guy in glasses and a dayglo yellow jacket printed with the words ELIZABETH POLICE, adjusted his grip a few times as simple gravity brought her closer to the ground.
The rally had been planned. So was the moment when five protesters sat down in the street, a clear dare to the cops stationed nearby. But the extent to which the woman had refused to cooperate with her own arrest seemed to come as a surprise to the police.
"What is this? What is this?" another officer standing nearby asked one of the rally organizers. His tone was quiet incredulity. "What is this?"
G/O Media may get a commission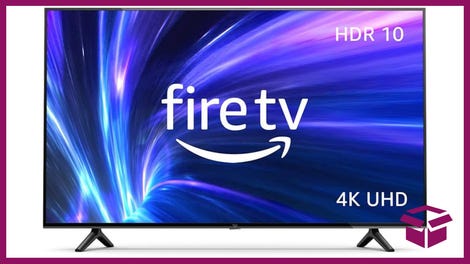 42% Off
Amazon Fire TV 50" 4K Smart TV
On the other side of the road, more than 100 protesters were gathered outside the Elizabeth Detention Center, one of six facilities in the state's detention and deportation network. The Elizabeth Center is a 300-bed facility owned by CoreCivic, which is what the nation's largest owner of private correctional, detention, and residential reentry facilities was renamed after undergoing a rebranding effort in late 2016.
Most of the protesters I spoke to on Thursday still called it CCA—Corrections Corporation of America—but whatever name you used, the industry giant was having a good day.
While protesters chanted "shut it down" and "we didn't cross the border, the border crossed us," news broke that Attorney General Jeff Sessions had reversed an Obama-era directive to phase out the Department of Justice's use of private prisons.
The author of the Obama memo was former Deputy Attorney General Sally Yates, who was fired by President Trump in late January after she refused to defend his sweeping Muslim travel ban. She explained the administration's logic like this:

…[private prisons] compare poorly to our own Bureau facilities. They simply do not provide the same level of correctional services, programs, and resources; they do not save substantially on costs; and as noted in a recent report by the Department's Office of Inspector General, they do not maintain the same level of safety and security.
But in Sessions' letter to the Bureau of Prisons, he claimed that the Obama policy had "impaired the Bureau's ability to meet the future needs of the federal correctional system." While just 12 percent of the nearly 190,000 people incarcerated in federal prisons are being held in private facilities, it seems the Trump administration believes they will need every bed in the coming years.
And CoreCivic is ready to start doing even bigger business. As the Huffington Post reported on Thursday, company leaders told investors on a call earlier this month that its inactive prisons are ready and waiting:

"All of our idle facilities are modern and well maintained, and can be made available to potential state and federal partners without much, if any capital investment or the lead-time required for new construction," CEO Damon Hininger said.

Indeed, Haninger said that CoreCivic was already holding more detained immigrants for the federal government than they anticipated. "Our financial performance in the fourth quarter of 2016 was well above our initial forecast due, in large part, to heightened utilization by ICE across the portfolio," he said.
Protesters at the Elizabeth facility expected the machinery of deportation, which the Obama administration had used to set its own bleak records, would only accelerate from here. And so their efforts to resist would, too.
"There's a lot of things you can do, but putting your body on the line is one of the best ways you can honor the immigrant community and show your commitment if you're able and you feel you're safe enough to do it," Luba Cortes, an immigration organizer at Make the Road New York, told me after the arrests. "It's peaceful escalation. It also shows the community is ready to come out and show what they believe: we don't want to see our people chained up in detention centers."
After the arrests, five in total, people kept chanting, this time a twist on a common refrain:
"Show me what community looks like," a man in butterfly wings—a symbol of borderlessness that many of the organizers wore that afternoon—called rhythmically into a bullhorn.
The crowd shouted back: "This is what community looks like."