The devastating wildfires in Northern California continue to burn through homes and businesses, leaving dozens dead and thousands without shelter.

In the midst of this destruction, a number of Native American tribes in the region have stepped up to help their neighboring communities.
"Not only are hundreds of our very own team members and tribal members displaced permanently from their homes, but we are heartbroken for the countless neighbors, families and friends whose lives have dramatically been affected by this ongoing devastation," explained Greg Sarris, tribal chairman of the Federated Indians of Graton Rancheria, whose Graton Casino in Sonoma County has opened its doors to shelter fire evacuees and first responders, and which has pledged $1 million to the area's rebuilding effort.
Joining the FIGR is the Middletown Rancheria of Pomo Indians, whose Twin Pine Casino Event Center is being used as a major shelter for those who have been forced to evacuate from the path of the fire.
"We opened at 2:30 a.m. on Oct. 9 and by 6 a.m. we had 140 people from the Sulphur Fire," a casino official told the San Francisco Chronicle.
G/O Media may get a commission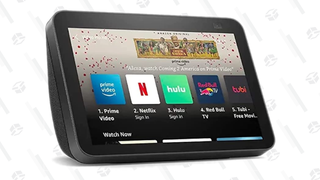 These efforts by these tribes to contribute to the ongoing relief efforts has been officially recognized by the professional disaster relief community.
"It's a fantastic partnership," a Red Cross official declared during the annual National Congress of American Indians conference this week.
But the aid offered by Northern California's Native tribes isn't always in the form of shelter. Robert Geary, a member of the Elem Indian Colony of Pomo Indians, described returning to his community by boat after having being evacuated the day before, to help the firefighters combat the blazes threatening homes and ceremonial buildings.

"There weren't very many firefighters on scene," Geary told High County News. "They are spread pretty thin."