As horrific stories of asylum seekers drowning in the Mediterranean and in one case suffocating in a truck continue to filter out of Europe every day, there have been signs that some Europeans are ready to welcome refugees to their countries.
In Germany, despite a string of recent arson attacks on asylum seeker housing and other incidents driven by neo-Nazi groups, some Germans have held pro-refugee protests. In Dresden, around 1,000 protesters marched under banners that read "Refugees Welcome."
In the town of Heidenau, where a new refugee center is opening, locals held a welcome event, handing out food and supplies on Friday.
G/O Media may get a commission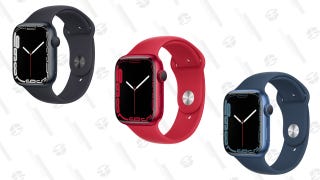 Up To $45 Off
Apple Watch Series 7
Just a week before, police in the same town of 16,000 residents clashed with neo-Nazis yelling abuse at asylum seekers and throwing stones, bottles and fire crackers, the Guardian reports.
In Berlin, a refugee center handed out toys to children seeking asylum:
On the Greek island of Leros, where some refugees who survive the journey across the Mediterranean Sea first land in Europe, locals and even visiting tourists have pitched in to provide support:
In Eisenstadt, Austria, locals demonstrated their support for refugees after the bodies of 71 asylum seekers (revised up from what were originally thought to be 20–50 bodies) were found decomposing in a truck on the Austria-Hungary border.
In Vienna, trains full of asylum seekers are welcomed by signs posted on platforms that read "Refugees Welcome – Open Borders", The New York Times writes:

The Viennese who assembled to greet the newcomers brought shopping carts and boxes full of bottled water, bread, diapers, cookies, fruit and candy.

"They have been traveling so long and must be very hungry and they have been treated so shabbily," said Marlene Pramhas, a social worker. She and two friends brought as many loaves of bread as they could carry to the train station, where "it is more or less chaos," she said.
Most of the refugees press on to Germany, where thousands are arriving every day. The German government expects some 800,000 people seeking asylum by the end of the year.
Meanwhile in Iceland, a local writer has rallied more than 10,000 people on a Facebook page in support of refugees, the Telegraph reports, after the Icelandic government announced last week that they would only take 50 more refugees.
"I think people have had enough of seeing news stories from the Mediterranean and refugee camps of dying people and they want something done now," author Bryndis Bjorgvinsdottir told an Icelandic public TV program.
The U.N. has called on wealthier nations in particular to take in more refugees as the ongoing civil war in Syria contributes to one of the most severe refugee crises the world has ever seen.