Iconic Mexican band Cafe Tacvba is currently touring the U.S. to mark their 25 years together and to celebrate the 20th anniversary of of their seminal album "Re." But they're also using the stage to show solidarity back home, speaking out about the continuous waves of violence and impunity that Mexico is going through, in particular with the disappeared  students in the state of Guerrero.
On September 26, 43 students from Ayotzinapa teacher's college in Guerrero vanished after police open fire to three buses they had siezed. Officials believe the students were handed over to local narcos by Iguala city police. There have been ongoing marches and protests throughout Mexico since then. Last week, protesters clashed  with police and hijacked trucks and buses. In Chilpancingo, the capital city of Guerrero, teachers have occupied the main plaza in protest.
See also: Mexican students on why they burn down, not sit-in
Members of Cafe Tacvba have participated in marches in Mexico City and released a statement on Facebook. During the past month in performances in Guadalajara, Los Angeles and on Miami on Thursday, they hung banners onstage in solidarity with the students of Ayotzinapa. "This is the violence that permeates the country and our society. It's very serious and it makes us very sad," singer Rubén Albarrán told Fusion after the first show of the tour, in Miami. "We have a repressive government that is breaking all international human rights laws. I hope this wakes us up as a society. "
"[Speaking up] is a first step, we have to express ourselves and let the political class know that we're paying attention and asking for demands," said Rubén. "We want garantees for the families and the students. Not just for Ayotzinapa's students, but for all students and young people in Mexico to ensure they're safe, that they're not going to get murdered."
G/O Media may get a commission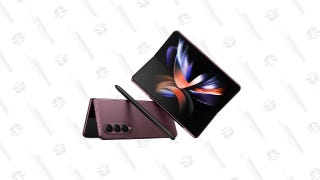 Save Up to $300
Galaxy Z Fold4
Cafe Tacvba's concert in Miami took place at the Olympia Theatre in Downtown, built in 1926. The show opened with a recording of Agustin Lara's bolero "La cumbancha"  and once the band took the stage, before playing even one note, the crowd was already giving them a standing ovation. To celebrate the "Re" anniversary, Cafe Tacvba performed the 1994 album in order and in its entirety, as they will do on every stop of the tour. In addition to the four core members of the band - Meme del Real, Joselo Rangel, Quique Rangel and Rubén Albarrán - Cafe Tacvba is touring with recurrent drummer Luis Alberto Ledezma,  guitarist Ramiro del Real (Meme's brother) and keyboardist, cellist, and percussionist Marian Ruzzi, who regularly plays with Julieta Venegas.
"It's a bit strange but good, it's the first night so we'll get the hang of it," said Rubén on how it felt to play "Re" live. "I think that 'Re' can be fully appreciated in its totality, what it meant for that time, what we wanted to say. If you only hear the most popular songs like 'Las Flores' or 'Ingrata' you're just getting a side of it. But playing the entire album, you can understand much better the sound that we gave to our concept."
The 20 songs in "Re" are among other things, about circles, about regeneration, the cycle of life, endless loops of the subway system, the spins of our planet. The album catapulted the band to international fame and became an indispensable gem of the rock en español canon. Cafe Tacvba made it cool to play rock immersed in Mexican folk and traditions and to sing about their lives as Mexican City dwellers; to sing of love but also about injustices to indigenous people and the environment. It's a fitting album to be revisiting.
During this tour, Cafe Tacvba will play for the first time in Wichita Kansas, where Latinos now account for 15% of the population according to the 2010 census.  After 25 years, they're still discovering new audiences and  asserting their Mexican influence in far away places."It would get a bit tiring if that weren't the case," said Rubén.
Video shot by Rayner Ramirez and edited by Jonathan Duncan.
Nuria Net is a founding editor at Fusion and now Social Storytelling Editor working on our Snapchat Discover channel. Co-founder, former editor-in-chief of Remezcla.com. Net is her real last name; Lechuga is her DJ name.