Hello, friends and readers and disembodied artificial intelligences of Fusion! I'm so excited to make your acquaintance. This is my column, Ask a Queer Chick, which has been running on The Hairpin since 2010 and is now here to bring wisdom and dildo jokes into your life.
My name is Lindsay King-Miller, and I answer questions about LGBTQ stuff. If you are an LGBTQ person, I am here to advise on pretty much any question you have—coming out, getting dates, breaking up, and more! Also, if you know LGBTQ people and are wondering how to be a great friend, neighbor, ally, partner, parent, uncle, or sorority sister to them, I'm here for you, too.
I am a cisgender bisexual woman married to a genderqueer butch dyke, and we have a tiny brand-new baby I'm head over heels in love with. My friend Molly says my writing is "distilled from a deep font of wisdom," though Molly hates peanut butter, so maybe you shouldn't take anything she says too seriously. Other than that, my qualifications for giving advice are as follows: I have three younger siblings, all of whom have survived to adulthood, and I have very strong opinions about almost everything.
Unbiased advice is a mythical creature that does not exist, but I will disclose my biases to you before we start, so you know what you're getting yourself into. I am strongly in favor of queer visibility, taking risks in the pursuit of happiness, being honest with yourself, and being honest with your sexual and romantic partners. I am opposed to bisexual erasure, transphobia, transmisogyny, staying in unhappy relationships, and mayonnaise. And I could not possibly be more excited about doing some hardcore opinion-exchanging with you fine people! Let's get to the questions.
I'm a lesbian, currently in a poly relationship with an awesome lady. Because she's so great, her other sweeties are also cool, and I like hanging out with them, especially one of her guys, who is nerdy on the exact same level as me.
G/O Media may get a commission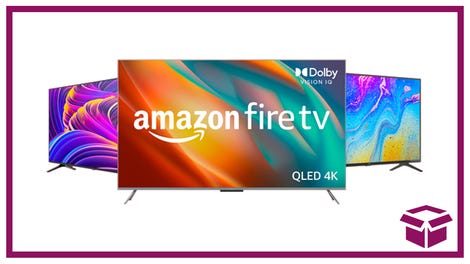 Ooh. stunning.
New Amazon Fire TVs
Now, while I have platonic buddy feelings there, I know he's into me (which sounds conceited as I say it, but he's not subtle, and several independent sources have verified his crush. He is definitely into me). Which, fine, whatever, he isn't pushing anything at me, just occasionally starry eyed, so it's just flattering.
Unfortunately, he mentioned to our mutual that he'd be interested in a threesome if I were, and I don't know what to do with that. Normally I see men in bed as the equivalent of bondage or a Hitachi. Like, neither do it for me, but if my lady likes it, then I'd be down for her reactions. So I wouldn't have a problem, and I know she'd be into it.
I just don't know if he would be comfortable keeping it platonic between us afterward, and I don't want to hurt his feelings. Which I imagine is a fairly crushing statement for the male ego— "I would have sex with you and our girlfriend, but I worry you'd get too attached and ruin our friendship." If all he wanted was sex, it'd be fine, but I think he wants a full triad, and I can't do that.
I just don't think he's thought through our differing levels of interest and attraction, and I don't want to hurt him with my ambivalence. How do I say that? Should I bring it up personally, or keep the buffer of deniability by leaving it with our mutual?
There are three different points I want to make here, and all of them are important! But the first and most important, and maybe the one that people most frequently need to be reminded of, is: You do not need a reason to not have sex with someone. If you don't want to, that can be the entire conversation. You don't have to submit your reasons to me or your prospective partner or your girlfriend or a panel of judges. You can say, "Nope, not interested" (in person or through your mutual girlfriend) and leave it at that.
There's a certain subtle social pressure on women in particular to be available for sex, and to be prepared to justify ourselves if we're not. We learn early on that "I don't want to have sex with you" will often be met with "Why not?"—as though our disinterest is invalidated if we can't back it up with facts and figures. But that's bullshit. Once you say no, the conversation is over. If your girlfriend's boyfriend tries to cajole you or throws a fit, he's a jerk, but since you and your lady both think he's cool, I'm going to assume that he'll respect your boundaries.
This brings me to the second important point: The way you presented this makes me think you actually do want to have a threesome with him, because you know your girlfriend would be so into it, but you're afraid it would jeopardize the equilibrium of your coexisting relationships. Maybe you're hoping, if you broach your concerns with him, he'll respond with a reassuring, "Oh, no, I'm totally not into dating you, I just want to bang," and you can move forward without guilt or emotional encumbrance. And that's fine! There's no law that says you have to be in love with someone before you get their pants off.
If you do decide that a three-way sounds fun, your responsibility in regard to his emotions begins and ends with being honest with him beforehand. Don't go through an intermediary—tell him to his face that you like him as a friend and you'd be up for a one-time ménage à trois, but you're not interested in dating dudes, so this is going to be all sex and no romance. If he agrees to your conditions, any disappointment he might suffer afterwards is on him.
HOWEVER, thing number three is that since you share a girlfriend with this dude AND you value his friendship, letting him break his heart all over you is probably not a great plan. It's not wrong to bang him when you know he has feelings you don't reciprocate, but it could definitely get messy, and then your girlfriend could end up caught in the middle. If this were just a casual acquaintance, I'd say to be honest and leave the ball in his court, but since the fallout could affect not only your friendship but your relationship as well, it's probably good to err on the side of caution here. So we're back to square one: politely demur, no further explanation needed. If you want to satisfy your girlfriend's group-sex cravings, do it with someone who shares your goals: some fun, sweaty enjoyment, but no emotional obligations.
I was at a costume party the other day, and got to chatting with an acquaintance. Since it's a costume party, the obvious thing to do is to compliment their outfit and how they're rocking it, especially the stilettos. At this point, I should say I thought I was talking to a cis gay man who did drag on weekends.
Turns out, after a bottle and half of prosecco and an alarming amount of fireball, jaeger, and pimm's, this acquaintance only needed to have her shoes complimented to tell me all about how she was actually a trans woman, the exact stage of her hormone therapy, and entirely too much about her work/family reasons for maintaining her cover as a cis man until her transition proceeded to a point in which it would be impossible to hide.
Now, I only see her at explicitly queer events, so using she/her pronouns should be fine there, but she's not out as transgender, and I don't want to be a dick and do that if she isn't ready. I mean, I really cannot overemphasise a) how drunk she was and b) how we really are just small talk and light jokes acquaintances. Maybe she is out at these events and I just haven't noticed because I can be a self-centered jerk?
Do I just avoid pronouns? I don't know if she remembers telling me all this. I don't know if she wants me using she/her or to stick to he/him out loud. I desperately do not want to have to hunt down someone I barely know to ask them if they want me to use the name they originally gave me or the one they told me they wanted while getting distracted by the lights over my shoulder.
On the other hand, if she does remember, I don't want to invalidate her identity by denying her the right to choose her own name and pronouns. Imagine how demoralizing it would be to remember spilling your guts and have them just ignore it.
I don't know. What do you think I should do, next time I wind up chatting with her?
This is a really sticky one! You're caught in a quandary between two fundamental rules of human decency. On the one hand, basic respect indicates that if you know someone's preferred pronouns, chosen name, et cetera, you use them. You don't insist that you know who someone is better than they know themselves. (Not telling people that their sexuality or gender is "just a phase" falls under this umbrella, too.) Therefore, you should refer to your friend as her chosen name, call her "she," and generally treat her as a woman, because that's who she is.
On the other hand, it's never okay to out people, full stop. If you didn't know she was a woman before she told you, your mutual friends probably don't know either. So you can't just go around blithely using her preferred pronouns and name without confirming that, yes, she's comfortable with all your shared acquaintances learning that she's trans.
I'm sorry to say that, in circumstances where you can't easily follow both these rules, neither of them automatically supersedes the other. There is no default reaction to your scenario. Should you ever happen to be on the receiving end of another drunken coming-out speech, you should probably go ahead and request some clarity on how public the other person's identity is. Asking, "Do you want me to keep this to myself, or should I refer to you as [chosen name] all the time?" while you're on the subject will save you a lot of worry in the future. However, since that option's not really on the table anymore, I'm afraid you're going to have to reopen this subject with your friend.
I know—you're not close, and it's a really personal topic, and it will probably be awkward. But you know what? It's worth braving some awkwardness to make sure you're being properly respectful of another person's identity and boundaries.
But I also think it's best to not force her into a conversation she may not feel emotionally prepared to have. So if you can, it's better to address the issue in writing. If you have her address, you could send her a card; if you're acquainted on social media, you can send a direct message. Otherwise, I'm gonna recommend you channel your 12-year-old self, and the next time you cross paths with this woman, pass her a note.
Your card, message, or note should be brief and to the point, but it should express this basic sentiment: You're very grateful that she felt comfortable enough to tell you about her identity and experience, and you want to honor her faith in you. At the same time, you don't want to out her to anyone while she's still keeping her transition mostly to herself. You're happy to chat about this anytime she'd like, but for the time being, you're going to continue referring to her as "he" and her given name. If she wants you to switch to using "her" and her chosen name but doesn't want to discuss it in depth, all she has to do is use the code word you've chosen—"phantasmagorical" is always a good one—and you'll know that means it's cool to acknowledge her as a woman in public.
I've identified with being bisexual since I was 15 but even before I knew what "term" to use, or choose, I always knew I was attracted to both males and females. I've had a hard time over the years, though, allowing myself to see myself as attractive to females. Fast forward a couple decades and I haven't had a relationship or just anything fun/sexual with a female. Only males. I think this might be because my father was never really there and in some daddy-issue way I look for attention from men more than women, as well as the not-attractive-to-women thing.
When I think of being with both women and men sexually (both separately and at the same time), I feel fulfilled. When it comes to relationships, though, I feel like I would be missing out on having a male relationship if I dated a woman. I definitely want an emotionally close, long-term experience with a woman. Definitely, but I'm afraid I'd be looking out for some guy who could really "make me feel safe." I've been in therapy, on and off, for just as long (unrelated issues) but even though I've told therapists I'm bi I've never really talked about it.
My issue and question to you is: Is it deeply fucked-up to have a relationship/sexual encounter with only a man and not a woman because it feels safer emotionally? I'm afraid I'd be doing myself a disservice by not putting myself out there with women. That's also a question I have: How do I put myself out there with women?
Welcome to Bi Club! The first rule of Bi Club is that you do not talk about Bi Club, or, more specifically, that you can talk about Bi Club all you want but no one will hear you or believe it exists.
If you've only ever dated men, people will use that to invalidate your bisexuality. I've been there. It's a bummer. But if you do date a woman, people will be like, "Oh, I get it, you were gay all along." I have also been, and currently reside, there. This will get super frustrating, but the crucial thing to remember is that your identity is yours to define! So if you feel attracted to people of various genders but prefer to pursue relationships with men, that's cool. You don't owe it to anyone to "prove" your bisexuality by having precisely equal numbers of lady, dude, and non-binary partners.
On the other hand, it sounds like you want to try dating a woman, and you're hesitating because you're afraid it might not work out. Here's the thing, though: That's true of every relationship! There's never any guarantee, when you start dating a person, that you'll have a beautiful future together. Maybe you'll run out of things to talk about halfway through the first date. Maybe you'll enjoy the company but the sex will be blah. Maybe your cat will never fully trust her. Or maybe you'll realize that you really do prefer dudes. But none of those possibilities mean you shouldn't give it a shot.
If you want to date a woman, go for it. You can meet women pretty much the same way you meet guys—online, through mutual friends, while doing activities you enjoy—although it's a little more challenging, because you have to confirm that she's into girls before you can move forward. To that end, it helps to spend time in places that are queer-centric or at least queer-friendly, so you know there's a decent chance she's buying what you're selling. In addition to the obvious places like gay bars and Tegan and Sara concerts, I've found that gay and bi women tend to congregate at open mic nights, independent bookstores, and roller derby meets. If you really want to get plugged in to your local queer scene, find out who runs your town's Pride events, and volunteer to help. You'll meet lots of cool people, learn the scoop on who's single and who leaves a trail of broken hearts in her path, and as a bonus, chicks dig it when you show up for the community.
Also! Do you think you might be poly? You talked about wanting to date and sex up men and women at the same time. It's hard to do that within a monogamous relationship model, but fortunately for you, that's not the only model that exists. If your ideal scenario would be to have a boyfriend and a girlfriend, or a boyfriend and casual dates with women, or two girlfriends and occasional one-night stands with dudes, or any other configuration, there are other people out there with dovetailing needs, and you can definitely find them.
Go after what will make you the happiest. In the end, that's really all you have to do. Of course, figuring out what will really make you happy—as opposed to what you think should make you happy—can take a long time and involve a lot of trial and error. But let me tell you, it's so damn worth it.
BEFORE YOU GO: Do you want to read more of my opinions on everything from coming out to breaking up to what shoes you should wear at your wedding? Then you should pre-order my book, Ask a Queer Chick: A Guide to Sex, Love, and Life for Girls who Dig Girls, out in February! And of course, if you have questions, send them my way: askaqueerchick@gmail.com.
Lindsay King-Miller is a queer femme tattooed fat chick who does not have an indoor voice. Her writing has appeared in Bitch Magazine, Cosmopolitan.com, Buzzfeed, The Hairpin, and numerous other publications. She lives in Denver with her partner, an adorable baby girl, and two very spoiled cats. Her first book, Ask A Queer Chick, was published by Plume in February 2016.