Pop quiz: It's Sunday afternoon and your head is throbbing. You don't recall exactly what happened the night prior, but it's safe to say you had way too much fun at your local bar. You check your cabinet and the Advil bottle is empty. So what do you do? What do you do?
Answer: You turn on basic cable and watch the edited-for-television versions of Keanu Reeves' filmography. You gaze at the screen through glassy eyes, like you've done so many times before, and wonder if the over-acting, the terrible accents, and the overt cluelessness was intentional or an acting choice by Keanu. In your attempt to solve that puzzle, your mind is distracted from the throbbing pain caused by last night's overindulgence in libations.
Keanu is the ultimate hangover cure. And today, the greatest thespian of the 1990s hits the half-century mark. Let's celebrate Keanu's 50th birthday by taking a closer look at five of his greatest films, and what makes him the king of Sunday hangover flicks.
"Bill & Ted's Excellent Adventure"
G/O Media may get a commission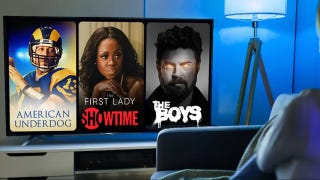 UNDER $1
99¢ Prime Video Channels
Keanu proved to be the king of rocker/valley comedy in "Bill & Ted's Excellent Adventure" in 1989. Keanu's "Ted" Theodore Logan must pass history class to avoid military school. If he can, Bill and Ted's band, Wyld Stallyns, will cause a global and cultural revolution for the better in the future. Bill and Ted's futuristic pal Rufus (George Carlin) equips the pair with a time machine, allowing the duo to experience history firsthand. In other words, the movie could be considered educational.
The history lesson is a great distraction from nausea. Also, when you watch the film you feel compelled to do the Bill and Ted signature air guitar, stretching the body to ease some of the aches and pains.
"Dracula"
In 1992, Keanu starred in "Dracula," in which he plays Jonathan Harker, a realtor who meets the titular vampire, played by Gary Oldman. Keanu affects a horrendous accent of ambiguous origin, which really distinguishes him despite his supporting role. You'll laugh so much you might actually vanquish your hangover headache.
"Speed"
"Speed" was the quintessential action blockbuster. Keanu plays SWAT officer Jack Traven, who takes us on a breakneck journey involving a bomb on a bus and Sandra Bullock. Who can't empathize with public transportation problems? Plus, there are enough explosions, loud noises, and chase sequences to lull you into an almost Zen-like, healing state.
"The Matrix"
The 1999 cult classic "The Matrix" does wonders for hangovers largely through its visual appeal. Keanu spends most of the movie in fancy trenchcoats on a journey to figure out who he is, until he realizes he's "The One." (There's also some sweet spoon-bending.)
For some health benefits, all you need to do is channel the movie's epic, famous slow-mo choreography. Dodge bullets, try some martial arts on your walls and furniture, and get the blood flowing to help that hangover.
"Point Break"
In 1991 we were blessed with the surfing/bank robbing/FBI action film "Point Break." Keanu's character, Johnny Utah, introduces us to hang ten culture and anti-establishment bank robbers, teaches us the names of former presidents, and shows us that it sucks to have a bad football injury.
"Point Break" will motivate you to grab a laptop and research life as an FBI agent. You'll look up agents' average intelligence, their undercover work, and what happens to their minds when they invest too much time on their cases. This helps pass the time until you're back at 100 percent.
Bonus Keanu Reeves remedy: Paula Abdul's "Rush Rush" video
If films aren't enough to cure your hangover, the queen of 1990s pop, Paula Abdul, recruited Keanu to play her love interested in the video for "Rush Rush." It pays homage to "Rebel Without a Cause," castin Keanu as the James Dean type. Sexy. Curing.
@fusion