More than 12 hours after the massive Category 4 Hurricane Harvey made landfall on the Texas coast, it was still being classified as a Category 1 hurricane on Saturday morning.

At least one town, Rockport, 30 miles north of Corpus Christi, which took a direct hit, experienced "catastrophic damage," according to the town's mayor, C.J. Wax. Emergency crews had just managed to venture out mid–morning on Saturday to assess the damage and search for injured residents who did not heed calls to evacuate before the massive storm hit on Friday night.

"There is widespread devastation," Wax told CNN, describing initial assessments of the town's damage as "catastrophic." CNN reporter Gabe Gutierrez said it was "utter devastation" and that "city blocks are decimated."

According to the Associated Press, about 10 people were transported to a local jail for medical treatment after the roof collapsed at a local senior center, trapping people inside. The local high school and other buildings reportedly collapsed after being pounded by 130–mph winds that were still raging at 90 mph on Saturday.

G/O Media may get a commission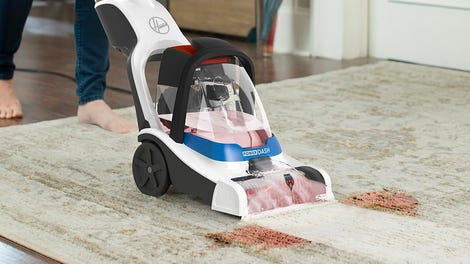 26% Off
Hoover PowerDash Pet Compact Carpet Cleaner
More than half of Rockport's 9,500 residents were evacuated before the storm hit.


Communications and emergency response efforts remain challenging. Before mid–day on Saturday, an estimated 300,000 residents along the Texas coast were left without power, the Houston Chronicle reported. Already nearly two feet of rain has been dumped on some areas, and flooding is a grave concern as heavy rains are expected to continue for days over already saturated ground.


Harvey is the strongest hurricane to hit the U.S. in over a decade. According to the AP, the last Category 4 storm to hit the country was Hurricane Charley, which struck Florida in 2004. The last hurricane to strike Texas was Ike in September 2008. With winds at 110 mph, Ike caused a staggering $22 billion in damage. By the time it's over, Harvey could far outpace that figure, experts warn.

Some 25–40 inches of rain are expected over the next five days in Houston, the area's largest urban center and the country's fourth–biggest city, prompting the threat of massive flooding.


Bryan Norcross, of The Weather Channel, told CNN: "This is like nothing we've ever seen before."

President Donald Trump is monitoring the situation from Camp David, where he is tweeting updates presumably viewed on Fox News:

Update, 4 p.m.: Citing an Aransas County judge, the Austin American-Statesman reported that one person died overnight and 12–14 were injured in Rockport. The newspaper said the unidentified victim had died after being trapped inside a home that caught fire.
Harvey has since been downgraded to a tropical storm, although it is still dangerous and experts are warning of possible "catastrophic flooding."
Also:

Update, Sunday, 11:50 a.m.: The National Weather Service has reported that five people have died as a result of the storm, which has now dumped about two feet of rain over the greater Houston area. That area, home to more than 6 million people, is now in grave danger of flash flooding as Harvey continues to unleash a torrent of rain over the area.
Massive search and rescue operations are underway in the metropolitan area to evacuate residents in rafts floating down flooded streets. More than 1,000 rescues have been carried out so far, according to CNN.

Update, Sunday, 1:40 p.m.: More than 5,000 federal employees currently are in Texas to help with the disaster response, The Washington Post reports. And according to Federal Emergency Management Agency director William "Brock" Long, recovery from Harvey "is going to last many years."



As devastating flooding continues in the Houston area, residents reportedly are being rescued from rooftops. And if that weren't enough, four tornado warnings were issued for the area on early Sunday afternoon, and more rain is headed to the downtown Houston area. That brings the number of tornado warnings issued since Harvey first approached the Texas coast to 99, according to CNN. More than 50 rivers are flooded.

And the storm system isn't even halfway done.

Update, Sunday, 3:08 p.m.: Both of Houston's major airports are closed, due to severe flooding, the Associated Press reported. George Bush Intercontinental Airport and Hobby Airport were closed to commercial flights around midday, until further notice. In addition, some 250 roads are closed in the region. Authorities are begging people not to drive into flooded waters, because this is what could happen.
Houston's George R. Brown Convention Center has been converted into a makeshift shelter, and dozens of people continue arriving after being evacuated or rescued, many of them from public housing complexes, according to the AP.

Here is a list of other shelters:

Update, Sunday, 4:35 p.m.: The White House announced that Donald Trump will visit Texas on Tuesday. The announcement was made as Trump returned to the White House Sunday afternoon after spending the weekend at Camp David.
As the most devastating flooding in Texas history hit the metropolitan Houston area, Trump spent Sunday in two teleconferences with Cabinet officials and Vice President Mike Pence, The Hill reported.
He also spent considerable time on Twitter, where he intermittently praised federal, state, and local agencies for their response to Harvey (maybe that "Deep State" isn't so bad after all!); complained about Mexico and crime as he renewed calls for his stupid border wall; dissed NAFTA; used the office of the president of the United States to plug a book by Milwaukee County Sheriff David Clarke Jr., an abusive xenophobe, Trump ass–kisser, and known plagiarist; bragged about his 2016 election victory again; and made the profound observation that, "Major rescue operations underway!"
Meanwhile, Texas Gov. Greg Abbott announced that he had activated 3,000 national and state guard members as the number of water rescues in the Houston area alone topped 2,000. Weather Channel meteorologist Greg Postel said this "could be the worst flooding disaster in U.S. history."
And local TV station KHOU finally abandoned its offices, forced out by rising floodwater.

Holy cow...Before and after:
This story is developing.