Update, Sunday, 11:45 a.m.: While German authorities have not released the name of the driver who plowed into a restaurant terrace in the city of Muenster on Saturday, killing at least two people and injuring 20 others before killing himself, police said he was well–known to them and had a criminal record.
Authorities said the 48–year–old man acted alone, the Associated Press reported.
"We have no indications that there is a political background or that others were involved," prosecutor Elke Adomeit told reporters, according to the AP. "But he was well known to the police."
The two victims who were killed were described as a 51–year–old woman and 65–year–old man, both from Germany. Of the 20 people injured, several remained in life-threatening condition on Sunday, including citizens of The Netherlands, the AP said, citing German officials.
Update, Saturday, 2:56 p.m.: An official clarified that the death toll of three people includes the driver. Of the 20 people injured, six are reportedly in severe condition, according to the AP.
G/O Media may get a commission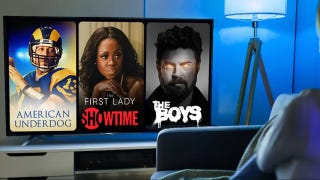 UNDER $1
99¢ Prime Video Channels
Update, Saturday, 2:03 p.m.: Citing the German newspaper Sueddeutsche Zeitung, the Associated Press has reported that authorities do not believe the crash was related to terrorism. The driver is believed to be a middle-aged German man with psychological issues, the AP reported.
While no motive has yet been reported, police are searching the suspect's apartment for possible explosives. A police spokesman said witnesses also reported that other people left the van after it crashed.
Original post continues here:
A deadly possible attack in the western German city of Muenster has left at least three dead and 20 injured after a delivery van drove into a crowd at a restaurant terrace on Saturday. The driver then killed himself after the crash, police said, according to the Associated Press.
The driver's identity has not yet been released.

According to CNN, the incident happened in an old part of the city that is popular on weekends. Muenster has a population of about 300,000. The section of the city where the incident occurred remains closed, and police are urging people to avoid the historic downtown area.

"German news Television n-tv showed a narrow street sealed off with red-and-white police tape. Dozens of ambulances were waiting near the cordoned-off downtown area. Helicopters were flying overhead," the AP reported.

According to CBS News, police found a "suspicious object" in the van, requiring the area to be evacuated. Police are not saying yet, however, if the incident is terrorism–related.

Andrea Nahles, a spokeswoman for German Chancellor Angela Merkel, said "our thoughts are with the victims and their families," CBS and Reuters reported.

The incident occurred less than two years after 12 people were killed when a truck sped through a Christmas market in Berlin in December 2016. Less than two weeks ago, Italian authorities arrested five men linked to Berlin truck attacker Anis Amri as part of an anti-terrorism sweep throughout Italy. Amri was later killed in a shootout in Milan.

Exactly one year ago, a similar truck attack killed five people in Stockholm.

In Saturday's tragedy, the unnamed driver plowed into diners outside the Grosser Kiepenkerl restaurant, according to Reuters.