Dozens of defense attorneys and protesters rallied outside a Brooklyn courthouse Tuesday afternoon after Immigration and Customs Enforcement agents "pounced" on a man with no prior criminal record waiting outside a courtroom, according to his attorney.
Genaro Rojas Hernandez, an undocumented immigrant awaiting trial on a misdemeanor assault case, was handcuffed and led out of courthouse after plainclothes ICE agents detained and handcuffed him as he spoke with his attorney, The New York Post reported. Speaking with the paper, Rebecca Kavanagh, Hernandez's Legal Aid attorney, described the chaotic scene, saying agents "were pushing and shoving me out the door. "
"It was a silly misdemeanor case […] on track to be dismissed," she continued. "I couldn't believe what was going on because court officers are not permitted to, should not be assisting ICE agents in making arrests."
ICE provided Splinter with the following statement on Tuesday's arrest (emphasis added):

ICE's Enforcement and Removal Operations (ERO) deportation officers arrested Genaro Rojas-Hernandez, a Mexican citizen who has two separate criminal charges pending following arrests by the New York Police Department, inside the Brooklyn Criminal Court on Nov. 28. Rojas-Hernandez was encountered by ERO deportation officers in a public area within the courthouse. The officers were advised that he needed to complete his hearing, and Rojas-Hernandez returned to the court room to complete his criminal hearing. ERO deportation officers were summoned to the courtroom at the completion of the hearing and Rojas-Hernandez was taken into ICE custody. Rojas-Hernandez was issued a notice to appear before an immigration judge and is currently in ICE custody pending removal proceedings.
Because sanctuary cities like New York City do not honor ICE detainers, aliens, who often have significant criminal histories, are released onto the street, presenting a potential public safety threat. Courthouse visitors are typically screened upon entry, making arrests inside such facilities far safer for everyone involved. ICE does not target victims or witnesses for enforcement action.
G/O Media may get a commission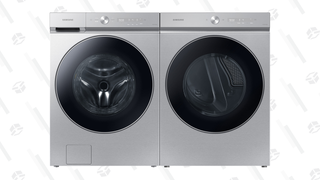 Get $500 back in credit
Last Chance: Samsung Bespoke AI Washer and Dryer Preorder
In a statement to the Post, Office of Court Administration spokesman Lucien Chalfen pushed back on witness' claims that court officers were involved in the arrest, insisting: "We do not facilitate or impede ICE agents when they effect an arrest inside New York State Courthouses." Chalfen also claimed four Legal Aid attorneys present "purposely [interfered] in an arrest situation," but Kavanagh denied that accusation.
Following Tuesday's dramatic detention, Legal Aid NYC attorneys—joined by dozens of supporters—rallied outside the building to demand ICE end its highly controversial practice of arresting undocumented people in courthouses, a once-unpopular method that's become routine under Donald Trump's administration.
While ICE insisted to Splinter that it "complies fully with all prevailing jurisdictional court policies and makes every effort to exhaust all other avenues before effecting a courthouse arrest," its longstanding practice of detaining undocumented immigrants inside zones once deemed neutral safe spaces has become a major political issue in recent months. In August, Acting Brooklyn District Attorney Eric Gonzalez and New York State Attorney General Eric Schneiderman publicly demanded the agency stop conducting courthouse raids, saying the practice is "making all of us less safe."
"We encounter more and more victims and eyewitnesses to crime who are fearful of moving forward because of immigration status," Gonzalez said at the time. "We see arrests by ICE spiking in our courthouses, including Family Court and courts dedicated to helping human trafficking victims and those with mental health issues."
According to data provided to the Post by the Office of Court Administration, ICE has entered New York City courthouses for targeted operations 79 times this year alone, resulting in 39 arrests.