Indiana parade organizers: Maybe think twice before allowing Trump supporters to have a float.
Back in July, an Indiana town's Independence Day float portrayed President Obama as a "Lying African." Now, a different rural town is getting criticized for a float showing Donald Trump executing Hillary Clinton.
Local TV station WCPO showed pictures of the float at the Aurora Farmer's Fair in Aurora, IN, featuring "Clinton" sitting in an electric chair, with "Trump" sitting next to her ready to throw the switch. A priest and a Grim Reaper with a bloody sickle looked on.
Also, since all of this was missing a particular racist je ne sais quoi, there was a Moai statue head (the ones from Easter Island) painted in blackface and labeled as being President Obama.
G/O Media may get a commission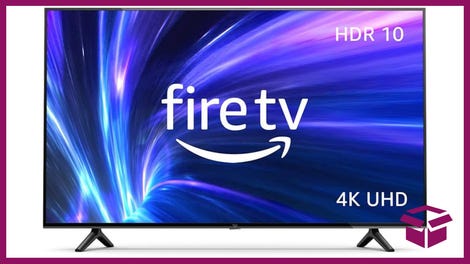 42% Off
Amazon Fire TV 50" 4K Smart TV
The float was built by Frank Linkemeyer, who told the Indianapolis Star it needed to have a better sense of humor.
"It's all in fun," Linkemeyer told the Star. "Laughter is the best medicine in life and this country needs more laughter — and the people that are offended by it, I'm sorry. Don't come to the parade next time."
He also claimed that he and his brother have a history of "spoofing" public figures in the parade and it was a tossup as to whether Trump or Hillary would be seen in the electric chair.
To test that theory, let's take a closer look at the signs on the side of Linkemeyer's float.
Somehow I don't think his primary goal was public caricature and satire.
Locals were pretty upset, with many complaining on social media that the float will give their town a bad name.
Both the city and the Lion's Club, which organizes the parade, tried to distance themselves from Linkemeyer's float. The city issued a statement saying that the float was "not consistent with the values of our citizens or who we want to be as a city," and the Lion's Club put out a news release saying it was disappointed in the float.
"We hope the political circus of this year's election stays with the national media," the club said in its statement.
We'll do our best.