Master of None breaks a ton of new ground when it comes to diversity on the small screen. (The number of TV's South Asian kettlebell enthusiasts alone has gone up by, like, 100%.) But many feel that Aziz Ansari's new Netflix series could have done more representing women of color.
Jezebel staff writer Kara Brown wrote that she "expected to see more women of color in significant roles" in her review on Friday. Vulture staff editor Ira Madison III shared those sentiments while live-tweeting his Master of None viewing over the weekend: "if your show is so smartly dealing with race, [it] should deal [with what it means to only date white people]."
On Sunday evening, Ansari addressed the criticism during a Twitter Q-and-A.
In response to a now-private tweet presumably asking about the show's lack of WOC love interests, the Parks & Rec alum wrote that his character, Dev, does have a WOC love interest: Annie Chang's Caroline in episode five (not episode four, as Ansari tweeted).
He continued, saying that there was "no ethnic requirements on any casting" and that they "just cast the best people." But if the "best people" for Dev to find sexually and romantically attractive mostly all end up being white or white-passing, isn't that worth confronting?
G/O Media may get a commission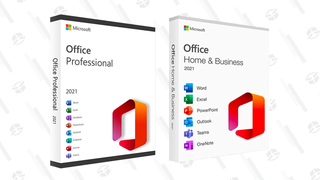 89% off
Microsoft Office Professional 2021 Lifetime License
At the same time, there's literally an entire episode ("Indians on TV") dedicated to discussing the ways in which casting directors take race and ethnicity into account before casting a new show! To claim some kind of postracial plausible deniability now is kind of impossible.
Bad at filling out bios seeks same.