You may know me from a television show that involved being proactive about my love life. What you may not know is that, a few years ago, I made a proactive choice about my reproductive life, too. From the time I was a little girl, not only did I know that I wanted to be a nurse, I also knew that I wanted to someday be a mother—so why leave it up to chance?
For the past seven years, I have had the privilege of working as a fertility nurse, helping others fulfill their dreams of becoming parents. And along the way, my work led me to make a decision about my own future: It inspired me, at 27 years old, to freeze my eggs.
How did I make this decision? Like most nurses, I'm a very empathetic person, and I often put myself in my patients' shoes. After the loss and grief I witnessed daily, I struggled to find a reason why I shouldn't freeze my eggs. At the time, I was in a happy relationship and many people thought I was acting prematurely. But I'm a realist. My mother passed away tragically when I was 19, so I tend to function with a "you never know" attitude. I was young, healthy, and felt comfortable with the science and the team I was working with. If I didn't look out for me, no one else would.
I viewed freezing my eggs as an insurance policy for my future, and no amount of money could justify the pain I might feel if, a decade down the road, I was unable to have a child of my own. With everything I knew, it made more sense for me to take control of my fertility versus waiting until there was a pathology.
G/O Media may get a commission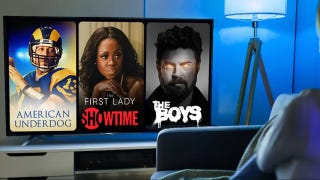 UNDER $1
99¢ Prime Video Channels
Once I made my decision, I wasn't looking back. The following day, I took a break from my nursing role to become the patient. I sat in a consult with Dr. Brian Kaplan, a reproductive endocrinologist working with aParent IVF laboratory, who set aside being my boss and mentor to be my physician. And soon after, I spoke with my colleague and laboratory director of aParent IVF, Colleen Wagner Coughlin, discussing logistics. Within the next few weeks, I was walking the talk.

An empowering choice
It's been three years since I froze my eggs, and I can confidently say that it is one of the best life decisions I have ever made. Why?
First, it has helped me become a better nurse. When patients ask what I would do in a particular situation, I can look at them with confidence and tell them not only what I would do, but what I did do.
Second, it has taken the pressure off dating. No guy wants to hear about a woman's "biological clock," and no woman wants to think about it. Now I don't have to.
And third, it has made me feel empowered. I took control of my life and made a decision for my future. Hopefully, I'll never have to use my eggs that are now indefinitely on ice, but it's a pretty remarkable feeling to know that I've done everything I can to ensure that my dream of being a mother won't have to be sacrificed.
I feel assured in my decision given the work I have done involving "third party reproduction," in which patients must rely on a donor egg or surrogate to have a child. With the latest media attention around egg freezing, these patients were consistently voicing their frustrations: "I wish I would have known this was an option for me," they'd told me, or "I wish I had been given the opportunity to freeze my eggs."
I would explain to these patients that while egg freezing has been around for a while, egg freezing several years ago is not what it is now. This is because of a technique called vitrification. In the past, a slow-freezing method was used to preserve eggs, which caused ice crystals to form—making the method less effective. Vitrification, in contrast, is a rapid-freezing method, which prevents ice crystals from forming and freezes the egg in a glass-like structure. Because of this advancement, success rates have risen substantially.

My advice to women
Now my advice to you. Fertility is one of your most precious possessions, so you want to know that it's in good hands. If you are contemplating egg freezing, it is imperative that you do your research to find the very best fertility doctor and IVF laboratory, as the fertility process is a collaborative effort. Be sure that the physician and team are skilled in vitrification of oocytes.
And finally, remember that timing is key. The best time for a woman to freeze her eggs is her mid 20s to mid 30s. If you are outside this window, that doesn't mean you are not a candidate. Just remember, the younger you are when you freeze your eggs, the healthier the eggs are and the better your chances are of having a baby later on. The amazing thing is, with egg freezing, you get older, but your eggs don't have to.
Whitney Bischoff is a fertility nurse in Chicago. She also received the final rose in season 19 of ABC's 'The Bachelor.'