The lawyer for a Maryland man charged with sexual assault was arrested in Baltimore on Tuesday for allegedly offering to pay his client's accuser not to testify and saying she would be deported by Donald Trump's administration if she came to court.
According to the Baltimore Sun, Attorney Christos Vasiliades, who was hired to defend Mario Aguilar-Delossantos against multiple sexual assault charges dating back to last year, was captured on a police recording referencing the "current environment for immigrants in this country" and offering $3,000 for the victim not to show up to testify.
"You know how things are with Trump's laws now. Someone goes to court and, boom, they get taken away," the attorney told the victim's husband, according to the indictment by the Maryland Attorney General's office.
Instead, Vasiliades allegedly suggested vigilante justice to sort out the charges against his client, saying in the recorded conversation, "if we were back home where I'm from, from Greece...we would go fuck him up, that's it."
"If you want to do that, that's fine," Vasiliades continued, according to court documents.
G/O Media may get a commission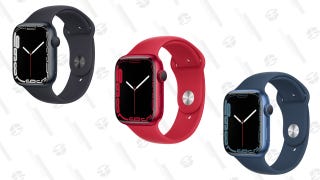 Up To $45 Off
Apple Watch Series 7
The lawyer initially approached the victim's husband several weeks before his arrest and offered $3,000 for the victim to not show up to court, so prosecutors would be forced to drop the case, the indictment alleges.
Alarmed by the attorney's overture, the couple—who have not been publicly identified—went to the police, who outfitted the victim's husband with a listening device for a meeting with Vadiliades on May 18.
According to the indictment, Vasiliades allegedly told the victim and her husband that his client would reveal the victim to be an undocumented immigrant if she testified and that Immigration and Customs Enforcement officials were already "looking at this case."
"My guy's going to be like, 'I'm here, but she is too!'" he allegedly said. "They're going to ask, 'You have your documents?' Then everybody's fucked."

Courthouse arrests have become a widespread, valid concern in the undocumented immigrant community as ICE officers step up their presence in and around judicial buildings. Citing fears that these arrests could create new obstacles preventing undocumented immigrants from trusting the criminal justice system, a number of officials around the country have asked that ICE not use the tactic.
According to the Sun, Vasiliades has been charged with obstruction of justice and witness intimidation. Edgar Ivan Rodriguez, an associate of Vasiliades who served as an interpreter during the wiretapped meeting, was also charged. Fusion reached out to Vasiliades for comment, and will update this story if and when he responds.