We don't know what killed Freddie Gray, or exactly what caused his spine to get mostly severed while in the custody of Baltimore police on April 12. He died a week later in a hospital.
But the theories are mounting. Was it the use of force by police on the scene? Cell phone video captured at the moment shows Gray being dragged into a paddy wagon, apparently unable or unwilling to walk. Was is some kind of altercation that has been kept from the public eye?
Or was it the fact that Gray was not fastened to a seat belt during the paddy wagon ride, a development which CBS reported late last night?
A lot of questions, and a lot of protests to match. The last theory — the revelation that gray didn't have a seat belt on — is particularly troubling, considering that the Baltimore PD had literally updated its policy on transporting arrestees a few days earlier. From the AP:

"It is police policy that all arrestees must be buckled in during transport. The policy, updated just nine days before Freddie Gray was injured, states 'all passengers, regardless of age and location, shall be restrained by seat belts or other authorized restraining devices.'"
…

"Police Commissioner Anthony Batts said Thursday that here are no circumstances under which a prisoner should not be wearing a seatbelt during transport and "that's part of our investigation.

"'Much like any other vehicle, you seatbelt people in and it's our responsibility to make sure people are safely transported,' Batts said, 'especially if their hands are behind their back.'"
G/O Media may get a commission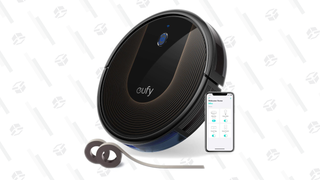 48% Off
Eufy BoostIQ RoboVac
Gray was arrested by Baltimore PD after he fled on foot after seeing police officers in a public housing complex. He later died due to complications from a spinal injury he received while in police custody.
The Department of Justice has announced that it is formally investigating the incident. The Baltimore PD's full report of the incident should come before month's end, according to CNN.
Protests have taken place across the city since Gray died on Sunday. The largest so far took place on Thursday evening, when several hundred gathered in front of a police precinct, leading to brief clashes with police, and at least two arrests.
State Troopers have been called in to help with the mounting unrest, reports USA Today. More demonstrations are planned through the weekend.
Daniel Rivero is a producer/reporter for Fusion who focuses on police and justice issues. He also skateboards, does a bunch of arts related things on his off time, and likes Cuban coffee.